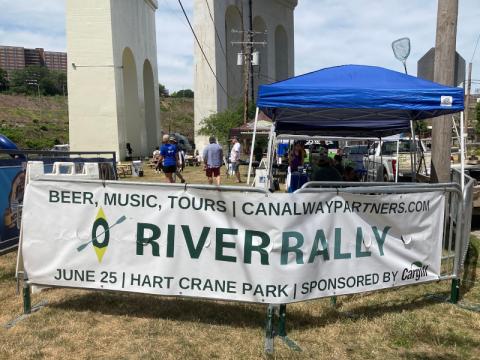 Enlarge Image
It was hot in Cleveland on Saturday, June 25, 2022, but despite the heat, it was a great day to explore our city's evolving riverfront at the Canalway Partners 2022 Cuyahoga River Rally. I have written several blog posts about discovering the waterfront along the Cuyahoga River, and how every year the access improves. Thank you to Canalway Partners for bringing everyone together to learn about our river.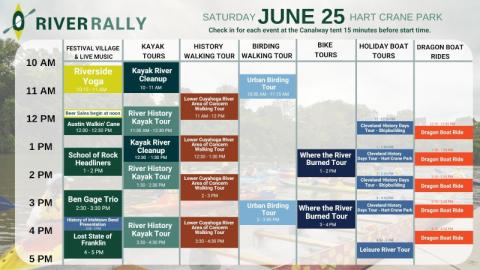 Enlarge Image
Cuyahoga River Rally
Saturday, June 25, 2022 | 10:00 AM – 5 PM

Join us at Hart Crane Park for a full day of fun along the river. The Cuyahoga River Rally celebrates the progress of the Cuyahoga River and the recreational and lifestyle enhancements clean water provides.

Festival Village and Beer Garden, 12-5 PM
Head to Hart Crane Memorial Park to enjoy an afternoon of live music in our beer garden

Participate in free, hands on activities from our friends at: Northeast Ohio Regional Sewer District, Great Lakes Science Center, Greater Cleveland Aquarium, Cleveland Amateur Boatbuilding and Boating Society, Cleveland Metroparks Watershed Volunteer Program, Cleveland Water, Cuyahoga County Solid Waste District, and more. .

Riverside Yoga with OneTreeLove, 10:15 – 11:00 AM

Kayak River Clean Up with Trash Fish, 10 AM and 12:30 PM

Guided Kayak Cuyahoga River History Tour, 11:30 AM, 1:30PM & 3:30 PM

Urban Birding Walking Tour, 10:30 AM and 3:00 PM

Walking Tour of the Lower Cuyahoga River Area of Concern, 11:00 AM, 12:30 PM, 2:30 PM and 3:30 PM

Where the River Burned – Bike Tour, 1:00 PM and 3:00 PM

Cleveland History Days Boat Tour: "Cleveland's Role in Great Lake Shipbuilding," 12:00 PM and 2:00 PM

Cleveland History Days Boat Tour: "Canal Basin Park & Hart Crane Memorial Park," 1:00 PM and 3:00 PM

Holiday Boat Leisure River Tour, 4:30 PM

Dragon Boat Rides, 12:15 PM, 1:15 PM, 2:15 PM, 3:15 PM and 4:15 PM
Read all the event details on: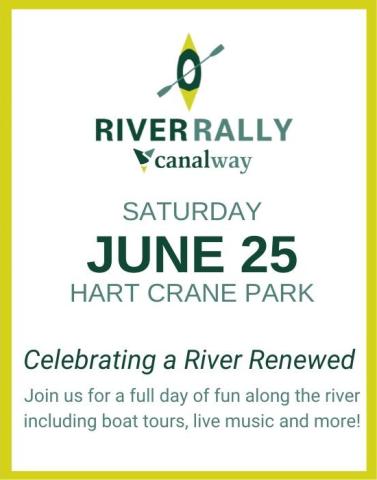 Enlarge Image
CLE Free Events
River Rally at Hart Crane Park #Flats, June 25, 2022 at 10:00AM: https://t.co/z2xj4RuQSf

— CLE Free Events (@tbFreeCle) June 25, 2022
Hart Crane Park is on the Cuyahoga River in Cleveland's Flats neighborhood, just north of the Columbus Road Bridge (get directions).

Named after the Cleveland poet and former Plain Dealer reporter Hart Crane (learn more courtesy of the Poetry Foundation or from Anne Trubek's "Hart Crane in Cleveland" courtesy of Belt Magazine). In honor and recognition of his work, the park is now part of the Ohio Literary Trail.

Hart Crane Park features a memorial designed by artist Gene Kangas. For more on the Hart Crane Memorial sculpture, check out Ohio Outdoor Sculpture's write up.

The Towpath Trail connects to Hart Crane Park via the Cleveland Foundation Centennial Trail. Hart Crane Park is near the amenities at Rivergate Park including the Cleveland Rowing Foundation, Crooked River Skatepark and Merwin's Wharf.

Canalway Partners has owned Hart Crane Park since 1994.
I followed the advice of @CanalwayCLE's tweet by parking away from the crowds and biking to Hart Crane Park. On this very hot day, I remembered enjoying this riverfront park for the first time in mid-winter.
I added the following three tweets, since they are about the early years of Brite Winter at Hart Crane Park -- showing how this park has been used for year-round fun. The first time I learned about Hart Crane Park was at a fabulous night my wife and co-blogger, Julie, and I had at the 3rd Brite Winter on February 19, 2011. (Learn more about this unique Cleveland winter event in my blog posts about the last eight Brite Winters.) Every time I come to this park, I have fond memories of being out in the cold along the Cuyahoga River inside an "inflatable cube" with live music in 2011! Good times!
Thank You, River Rally Sponsor & Supporters
Cleveland History Days

Founded on the shores of Lake Erie and the Cuyahoga River, Cleveland's growth as a major American city was fueled and influenced by the many immigrant groups that settled here. It is a city that emerged from the Gilded Age as a leader in policy and programs, building not only a great city but also a greater civilization with a vibrant culture.

Cleveland History Days (CHD) is an annual celebration of our city's rich legacy. Created in 2018 by Tim Donovan and Tom Yablonsky, the inaugural year featured 32 programs over ten days. ­Since then, the celebration has grown to comprise 27 organizations offering nearly 40 spectacular programs and events.

From Friday, June 24 to Sunday, July 3, visitors can take tours, listen to lectures, and marvel at the major contributions that have brought us to where we are todayc
Canalway Partners' Cuyahoga River Rally is part of Cleveland History Days, a week-long celebration of our city's rich legacy.
History Days Boat Tour
Cleveland History Days Boat Tour: "Cleveland's Role in Great Lake Shipbuilding"

Frank Piccirillo will be your tour guide for a complimentary 30-minute river history and development talk aboard the Holiday Boat. We'll explore Cleveland's role in shipbuilding from the canal era through Great Lakes freighters, and how both sides of the river were actively involved in this pursuit.
BrewBoat Cleveland
Bike Tour
Where the River Burned – Bike Tour

Ride your bike to River Rally and join Jim Sheehan and the Ohio City Bike Co-Op team for a 5-mile guided bike tour. On the tour, you'll learn about the Cuyahoga River Fires, the comeback of a river left for dead, and the history of Cleveland's Industrial Valley. The ride starts at Hart Crane Park and makes tour stops at Irishtown Bend, Canal Basin Park, Fire Station #21, Sokolowski's Overlook, 1952 fire overlook, Collision Bend overlook, and returns to Hart Crane Park.
I am so glad I brought my bike to the River Rally! While I have biked this area along the Cuyahoga River many times, I visited some new trails. The director of Ohio City Bicycle Co-op, Jim Sheehan, shared some interesting history of the river.
Here are some of my tweets from 2018, since I want to take this opportunity to again thank Erik Anderson for the tour of Ohio City Bike Co-Op and to Jim Sheehan showing me how to repair my old bike. See my "bike" blog posts to see how I make good use of my bike.
FYI, Ohio City Bike Co-Op was one of the Cleveland GiveCamp Nonprofit Partners in 2018. See my "GiveCamp" blog posts and go to the ClevelandGiveCamp.org website to learn how Cleveland and Akron nonprofits can receive FREE tech solutions at Cleveland GiveCamp. I have been on the Cleveland GiveCamp Steering Committee since the year after it was founded, and have attended this working tech weekend for all eleven years. Here is my 2018 Cleveland GiveCamp blog post where you can learn how, in addition to being a Nonprofit Partner, Ohio City Bike Co-Op earned a "Craze eCool Award"cash prize.
As I was writing this blog, I was reminded that Canalway Partners was a Cleveland GiveCamp Nonprofit Partner in 2014:
Here are my 2018 tweets mentioning Ohio City Bike Co-Op at the Cleveland GiveCamp Weekend:

Enlarge Image
Thanks to Share The River for providing additional information on Twitter about the BIG 1952 fire, and information about the Saturday, July 23, 2022, Blazing Paddles Paddlefest. I highly recommend following @ShareTheRiver on Twitter, and reading about Cleveland's river and other local waterways in Share The River's blog at: ShareTheRiver.com/Blog
The Cuyahoga River burned many times, but after a river fire in 1969, the photo of the 1952 fire was used in national publications. The 1969 river fire sparked interest in environmental protection and water quality. Learn more about the 1952 fire photo, the Cuyahoga River, and the Blazing Paddles Paddlefest in the following:
Chris Ronayne lives in Cleveland's Edgewater neighborhood with his wife and two kids. He has spent his career making a difference in Cuyahoga County, building lasting partnerships and connecting assets to create opportunity. Now, Chris is running for Cuyahoga County Executive.
It was great to talk to Chris Ronayne between the bike tour and the history walk at the Cuyahoga River Rally. He arrived by bike, and told me that the rally was one of four events he was attending that day. I learned while writing this blog post that he is the current Chair of the Canalway Partners Board of Directors. I knew Chris from his work as the President of University Circle, Inc. for 16 years. I only recently learned that his wife, Natalie, is Chief Development Officer for the Cleveland Metroparks when I saw a tweet she shared using her @RonayneNatalie Twitter name. I am very interested in Chris's and Natalie's good work, as evidenced by my 64 blog posts about "University Circle" and the 31 blog posts about "Cleveland Metroparks."
It was fun to see Chris Ronayne's tweets from the day -- especially how he captured photos of the bride and groom I saw when I was leaving on the river walking tour. They were having their wedding photos taken with backdrop of the beautiful Cuyahoga River and the Columbus Road Bridge,
Walking Tour
Walking Tour of the Lower Cuyahoga River Area of Concern

Take a scenic walk along the Lower Cuyahoga River Area of Concern on the Ohio & Erie Canal Towpath Trail. The journey will start and finish at Hart Crane Park and wind up the 'Crooked River' pausing to observe areas where river restoration actions have been implemented, including areas where fish habitat has been installed, erosion has been remediated, and public access points have been established. Leading the tours are Bill Hughes, Tom Rayburn, and members of the Cuyahoga AOC Advisory Committee. DISTANCE : 2 miles with hills.
Bringing 1 river, 21 subwatersheds, and 10 miles of Lake Erie shore back to health

The lower 46.5 miles of the Cuyahoga River, including all the tributaries that drain to that section of river, and the adjacent Lake Erie shoreline and its direct tributaries, comprise the Cuyahoga River Area of Concern. . . .

The Cuyahoga River is one of the Great Lakes Areas of Concern (AOC) – waters in the U.S. and Canada that have experienced environmental degradation, fail to meet the objectives of the U.S.- Canada Great Lakes Water Quality Agreement (GLWQA,) and are impaired in their ability to support aquatic life or beneficial uses. . . .

. . . OhioEPA and the Ohio Lake Erie Commission are the state agencies in charge of delisting Ohio's four AOCs (Cuyahoga, Ashtabula, Black, and Maumee.) Each AOC has a local stakeholder committee. The Cuyahoga AOC Advisory Committee serves that purpose. . . .
While I already did follow @Cuyahoga_AOC (Advisory Committee for the Cuyahoga River Area of Concern) on Twitter, I was not aware of the "Cuyahoga River Area of Concern" designation by the EPA, which I learned about on the walk. I look forward to learning more about the AOC, and I enjoyed learning about future plans for this part of the waterfront.
Pizza & Beer on a Hot Day in Cleveland
Sainato's at Rivergate
Gem in the Historic Rivergate District
Friendly, family-run Italian restaurant and sports bar nestled on the banks of the Cuyahoga River in the emerging Rivergate District.
A Twitter search for "@SainatosRGT @sos_jr" shows why I have fond memories of Sainato's at Rivergate's pizza -- from the Cleveland Digital Publishing Users Group (CDPUG) Holiday Party and the Rails-to-Trails Conservancy - Opening Day for Trails Cleveland! (blog post). I was glad to see Sainato's participating in the 2022 Cuyahoga River Rally.

Enlarge Image
trashfish_cle
TRASHFISH
"Litter" ain't the issue! Quit buying stuff made of plastic. Or volunteer in one of our kayaks. What ever.
It was great to meet Eddie Olschansky who, as the founder of Trash Fish, spends his days cleaning area rivers in northeast Ohio. He organizes volunteers to go out on kayaks and pick up trash. The photo of the fish tank in the following tweet shows some of what has been pulled from our local waterways.
By watching the following TRASHFISH Foot The Bill Application video, I found out that Eddie Olschansky is out on the river year-round. Yes, he is cleaning our rivers using a kayak in the middle of the winter!! Watch his video to learn more:
It is such a small world!! Just four days after I met Eddie Olschansky of Trash Fish, Kevin Goodman of BlueBridge Networks tagged me in a tweet and sent me an email to be sure I knew about the good work of Trash Fish. Kevin knew of my interest in our waterways, and I am grateful he thought of me.
BlueBridge Networks supports the work of Trash Fish and had their staff join in the kayaking river clean-up. Thank you to Kevin Goodman and all the BlueBridge Networks employees whose volunteer work with Trash Fish is making our rivers cleaner!!
Kevin Goodman and BlueBridge Networks are very active in our community supporting many good causes. If you read my Cleveland GiveCamp blog posts, you will see that BlueBridge Networks has been a longtime supporter Cleveland GiveCamp.
Over the years, I have been invited to events at BlueBridge Networks' offices, and have attended events they hosted or in which they were major participants. Learn about some of these events in my blog posts about BlueBridge Networks.
Cleveland Water
Cleveland Water has a long history of providing safe and great-tasting water. Since our founding in 1856, we have worked hard to help our City – and the surrounding region – grow and expand.
Cleveland Water provided water and reusable water bottles to the Cuyahoga River Rally attendees. If you want to learn about how they clean our water, I added their video above. Thanks to an announcement tweet from @ShareTheRiver in 2018, I toured and wrote about what I learned in:
The Watershed Volunteer Program (WVP) is an effort to engage Northeast Ohio (NEO) residents in an array of active management projects to improve watershed conditions.

Participants can create their own adventure of watershed stewardship from the range of opportunities offered, including:
Established in 2012 with support from Ohio Environmental Education Fund, and currently in partnership with Northeast Ohio Regional Sewer District, WVP is a Natural Resources volunteer program of the Cleveland Metroparks. Over the last ten years, more than 2,200 volunteers contributed 25,000+ hours and 240 became Certified Watershed Stewards (see below for more on the Watershed Stewardship Certification) . . .

The WVP staff includes Program Coordinator Lisa Meranti with seasonal support and is overseen by Stream Restoration Ecologist Elizabeth Hiser.
It was great to meet a staff person and volunteers from the Cleveland Metroparks Watershed Volunteer Program (WVP). They do important work to improve our parks' waterways.
I knew watershed stewardship work was being done as part of the Cuyahoga Valley National Park volunteer program and at the Cleveland Metroparks volunteer program, but this is the first time I remember learning that there was a specialized Watershed Volunteer Program (WVP) at the Cleveland Metroparks.
Detailed information can be found on the Watershed Volunteer Program (WVP) Google Site website, which can also be accessed via the main Cleveland Metroparks website here.
More Cuyahoga River Photos
Last week, Canalway celebrated a "river renewed" by looking at how far the Cuyahoga River has come, the river's history, and the lifestyle enhancements clean water provides at Cuyahoga River Rally at Hart Crane Park in the Flats.

FreshWater managing photographer Bob Perkoski caught the music, the activities, and all the fun to be had on the Cuyahoga River in this photo essay.
Please be sure to look at all the pictures in the Freshwater Cleveland photo essay from the River Rally. Note that in the last photo of the slideshow, the guy in the middle is me wearing my yellow Steering Committee shirt from the 10th anniversary of Cleveland GiveCamp.
Canalway Partners is a non-profit cultural heritage organization that serves as a catalyst for projects and programs within the Ohio & Erie Canalway National Heritage Area in Cuyahoga County.
. . .
Throughout our 35 year history, Canalway has led the development of the Northern end of the Towpath Trail, initiated the development of Canal Basin Park and programmed acclaimed Cleveland events including The Towpath Marathon, the Towpath Trilogy and RiverSweep.

Canalway Partners and the Ohio & Erie Canalway Coalition work together on the promotion of Ohio & Erie Canalway National Heritage Area from Cuyahoga to Tuscarawas County.
Near the end of the rally, I enjoyed talking to some members of the Canalway Partners Board of Directors about their important work. It is amazing what has been accomplished in the 35-year history of Canalway Partners.
I want to finish this blog post by not only thanking Canalway Partners for their 2022 Cuyahoga River Rally, but also for their ongoing work to improve the quality of life by developing new resources to enjoy Cleveland's riverfront.
Related Blog Posts
I always like to end my blog posts with a list of related blog posts:
Cleveland Foundation Centennial Lake Link Trail:
Red Line Greenway (Links the Cleveland Foundation Centennial Lake Link Trail to two RTA Red Line Rapid Transit stations):
Rivergate Park events:
Blog Date: September 8, 2021 - My Cleveland Week: Cleveland Foundation > MidTown Murals > USS Cod Party > Irishtown Bend Hike > One World Day
See the "Sunday, August 29, 2021, 9:00 am Irishtown Bend Tour Hosted by West Creek Conservancy Merwins Wharf" section of this blog post about a week of fun in Cleveland.

Blog Date: April 23, 2019 - Great Turnout for Rails-to-Trails Conservancy Opening Day for Trails - Cleveland 2019

Blog Date: April 17, 2018 - Rails-to-Trails Conservancy - Opening Day for Trails Cleveland!
2018 (the sixth year of this event) was the first time this national Rails-to-Trails Conservancy event took place in Cleveland. I am a longtime member of Rails-to-Trails Conservancy, and also a member of several other trail organizations that I list in my June 15, 2022, blog post about National Trails Day®.
This event included a tour of the Cleveland Rowing Foundation, which is located in the Rivergate Park area.
Take A Hike Cleveland - Note that "Canalway Partners is proud to sponsor the Historic Gateway Neighborhood Corporation's Take A Hike® Program." I have three Take A Hike Cleveland blog posts (click this link to see all three). I want to recommend the following blog post, since it is my oldest blog post about the riverfront and announces as "new" much of what we enjoy today:
Blog Date: September 11, 2014 - "Take a Hike" - Cleveland's Flats & Beyond!
* Merwin's Wharf, the new restaurant developed by the Cleveland Metroparks.
* Canalway Partners' new Cleveland GiveCamp website about the new Scranton Flats area.
* $5 million announcement by the Cleveland Foundation about their Centennial Lake Link Trail.
* Newly renovated Cuyahoga Valley National Park Canal Exploration Center.
* Cleveland Foundation "Weekends on the Water" free educational cruise on the Goodtime III.
Other blog posts that may be of interest:
There is obvious overlap between blog posts tagged as Cleveland Metroparks - Backpacking - Bike - Hike - Trails and the blog posts above, but if you are interested, please click on the tags for ideas of places to explore.
I hope you find the resources I shared in this blog post useful as you find our own fun and adventures along Cleveland's riverfront!