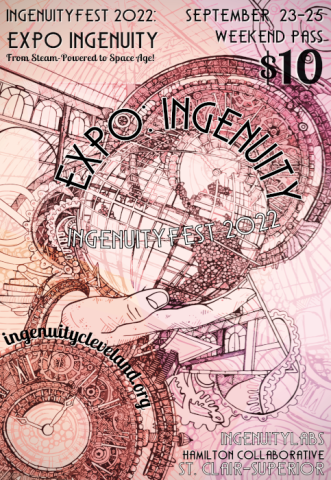 Enlarge Image
I normally spend three full days at the annual IngenuityFest Weekend, but family commitments only allowed me to visit on Saturday, September 24, 2022, for three hours in the evening. I was so impressed with the event, I want to share in this blog post the photos/videos that I and others shared about the weekend. After 2020's IngenuityFest being canceled due to the COVID-19 pandemic, and last year being an outdoor event at the Cleveland Metroparks, it was good to be back at a more traditional IngenuityFest Weekend of creativity at the Hamilton Collaborative location.
I also want to mention that one of the highlights, in addition to the incredible displays and performances, was reconnecting with people that I have not seen in person the last few years. It has been a difficult time for many people, and I am grateful to the artists who are IngenuityFest, and the sponsors that support their work.

Click here to open PDF 20.4 MB file
in a new window for the
IngenuityFest 2022 Program.
Before IngenuityFest 2022 Weekend - Announcements & Related Activities
At the Friday, July 29, 2022, PechaKucha Night Cleveland Volume 37 in CWRU's Toby's Plaza (click here to read my blog post), it was announced that PechaKucha Night Cleveland Volume 38 would be part of the opening night of IngenuityFest 2022:
I also learned that Motogo Cleveland is the nonprofit educational wing of Skidmark Garage. I mentioned about this Cleveland community garage first opening in a 2016 tweet -- ". . .@skidmarkgarage will be opening a new community #motorcycle garage . . ." -- which is in my 2016 Ingenuity Fest blog post
I learned about Skidmark Garage since it is located in the Hamilton Collaborative, as is Ingenuity Cleveland. Learn more in my blog posts:
INGENUITYFEST 2022
EXPO: INGENUITY

We are thrilled to announce that IngenuityFest will return on September 23-25, 2022! . . .

Drawing on the best traditions of World's Fairs and (inter)national exhibitions, including the ability to highlight those scientific, technological and social innovations that have driven progress, Expo: Ingenuity will ignite the creative spark by tracing a history of imagination through time and place, highlighting the ability of expositions to bring people together to uplift achievement and human ingenuity.

At Ingenuity Cleveland, we are thrilled to gather and celebrate this past, present and future (from steam-powered to space-age!) with the return our flagship event, alongside our wide community of artists, performers, entrepreneurs and YOU!
Announcing IngenuityFest 2022 | Expo: Ingenuity:
I was so excited to see Dixon's Violin's tweet that he would be performing as part of his "Humankindness tour" at IngenuityFest 2022, since I remembered enjoying his show at Ingenuity Cleveland 2013.
On the morning of IngenuityFest (Friday, September 23, 2022), it was good to see that @SaschaPeppercor and @JarrydHuntley will be displaying their creativity at IngenuityFest 2022 -- EXPO: INGENUITY.
IngenuityFest 2022 - Expo: Ingenuity

Friday, September 23, 2022 - 6:00 pm - 1:00 am
Saturday, September 24, 2022 - 1:00 pm - 1:00 am
Sunday, September 25, 2022 - 1:00 pm - 6:00 pm
FESTIVAL DETAILS
GET THE 411 ON THE FESTIVAL WEEKEND
IngenuityFest takes place at IngenuityLabs @ the Hamilton Collaborative (5401 Hamilton Ave., Cleveland, OH 44115).

FESTIVAL VILLAGES INCLUDE
IngenuityFest is divided up into themed sections - called "villages" - where you'll find vendors, exhibitors, stages, and more! This is just a sampling of what you can expect - we have 11 villages total!

Ideation Station - featuring a Speakers Stage, the See Our Light equity arts project by FabHouse CLE, and information on the Re-Discover St. Clair Superior Master Plan

Makers Mecca - you'll find dozens of individual makers and artisans showcasing pop-up shops with art, clothing and handmade items.

Wellness Way, Presented by MetroHealth - A Village Dedicated to whole-community wellness of mind, body and spirit! Find intergenerational activities and kid-friendly art-making, plus the opportunity to learn about neighborhood wellness resources!

Inventor's Emporium - Celebrate the more whimsical side of the World's Fair with imaginative exhibits that wend their way dreamily through Expos past.

Lunar Landing - A 180 Degree immersive otherwordly experience with immersive projections from Kevin Jackson and a downtempo vibe created just for you from local DJs Mark Strauss, 1Auxy, Jason Sodich and Justin Hartman

...PLUS so much more! Across all villages, six stages will bring you music in all styles from hip-hop, to folk, to honky-tonk delights. With the intimate feel and Victorian circus vibes of The Cabaret; the local and touring acts at Music Meadow; to bass beats and fast rhymes of The Dock Stage, plus, the ever popular upstairs bar and hang-out at the Crystal Palace Stage, audiences can appreciate performance at its best, including showcases from a variety of performance collectives like Beat Freak, Roots of American Music, Cleveland Comedy Festival and Temple of Passions. Headlining performances on Tesla's Polyphonic Stage include the Tesla Orchestra, Crooked River Circus, Dixon's Violin and more!
Saturday, September 24, 2022 - My Evening Visit to Explore IngenuityFest 2022 - Expo: Ingenuity
Due to family commitments, I missed Friday night & Saturday daytime of @IngenuityCLE 's #IngenuityFest, but I am so glad I was able to go Saturday night! It was FANTASTIC . . . Thank you so much to the sponsors that make it possible!
Here are my tweets with photos/videos from when I visited on Saturday evening. It was particularly great to be back at Ingenuity Cleveland's Hamilton Collaborative after the 2020 cancellation and the 2021 outdoor Ingenuity at the Lake -- I was very impressed with what I saw during my three-hours visit, and wish I could have stayed longer.
You've never heard violin like this!
The world's premier visionary violinist, Dixon's life mission is to inspire people - and he has done so at over 1,000 concerts across North America, including giving four TED talks/performances, over ten years at Burning Man and Electric Forest, plus radio, TV, and film appearances. A former technology leader and symphony violinist, Dixon walked away from a distinguished career to follow his dream full-time, and invented a whole new music genre. Dixon now improvises on a 5-string electric violin with a looping system he developed to create an all-live one-man symphony, guided by his remarkable personal story of life transformation...
I had not looked at the IngenuityFest 2022 Expo Program stage schedule -- I just planned to wander the expo and let fate determine what I saw -- so I was very pleased when I found myself enjoying Dixon's Violin's performance!!! If you enjoy his music clips in the following tweets, please share with others by retweeting. I remembered enjoying his performance from 2013, and have some short video clips in my 2013 blog post:
Dixon's Violin's performance at IngenuityFest 2022 is part of his "Humankindness Tour" -- here is his Humankindness video from TEDxDetroit, which you can share with others by retweeting my tweets that follow.
Hula hoop dancers performed while Dixon played his violin.
Tesla Orchestra
About Us
History
The Tesla Orchestra formed in 2009 at Case Western Reserve University and has rotated members since then, always with the same goal of entertaining audiences with high-tech performances and promoting science and engineering around the world. The group is currently based at Ingenuity Labs - an arts and science incubator in Cleveland, Ohio (USA).

Current Members
Ian Charnas
Chris Dickey
Andrew Dupuis
John Forcina
John Kasunich
Tyler Laseter
Arkady Polinkovsky
The music of The Tesla Orchestra is great fun!! If you search for "@TeslaOrchestra" on my website, you will see that I have mentioned enjoying their electrifying performances in 12 of my blog posts.
Please share both the following tweets by retweeting them, and share their website URL, TeslaOrchestra.com, so more people learn about their "team of engineers, artists, and misfits using technology to entertain audiences around the world."
Ian Charnas is a director and co-founder of Sears think[box], a 7-story Makerspace and Innovation Center at Case Western Reserve University that is free and open to the public. He graduated from Case Western with degrees in both computer and mechanical engineering.

His personal work blends art and technology in creatively-themed exhibits and group projects, including the World's Largest Twin Musical Tesla Coils, a real-life Mario Kart, and a Waterfall Swing. Ian and his work have been featured on Gizmodo, Make Magazine, Wired, Forbes, NPR, NBC, ABC, Popular Mechanics, BoingBoing, AdaFruit, PitchFork, and Hack-a-Day.

He aims to inspire creativity and the belief that you can do anything.
After the The Tesla Orchestra performance, it was good that my son, Kevin, and I got to talk to Ian Charnas, who is the founder and director of the Case Western Reserve University Sears think[box]. Kevin often uses think[box] resources for his projects which require laser cutting/engraving, 3-D printing, and/or embroidering.
I was fortunate to attend the think[box] opening event -- Thinkapalooza - in 2015, which included not only The Tesla Orchestra performance, but also CWRU Robotics, Xyla Foxlin's Baymax Buddies project, CWRU's Baja SAE Team, and a perfect replica of the "Back To The Future" DeLorean Time Machine!!! My wife and co-blogger, Julie, and I were excited to be able to sit in the DeLorean Time Machine at the opening party!!!!! Learn more about the opening in my blog post:
I highly recommend following @IanCharnas on Twitter -- a search on Twitter for our interactions shows some of the interesting things I have learned from him. Also, be sure to see his IanCharnas.com website and his Ian Charnas YouTube Channel.
Please take the time to learn more about The Tesla Orchestra and Case Western Reserve University Sears think[box] in the following blog posts by Ian Charnas:
Thor's Hammer
Thor Cosplay with Real Lightning! Tesla Orchestra's musical Tesla coils are featured in the video.

After reading Ian Charnas's Thor's Hammer blog post, be sure to see the Tesla Orchestra Video: Thor Summons Lightning
"Aug 23, 2021 Special thanks to Ingenuity for venue and production help!"
"Tesla Orchestra/A team of engineers, artists, and misfits using technology to entertain audiences around the world."

Tesla Orchestra
For those of you who have enjoyed seeing Tesla Orchestra creations at IngenuityFest over the years, this is a must-see blog post. I have great memories of seeing the world's largest twin musical tesla coils, musical "mini" tesla coils, and joystick-controlled robotic claw game.

Sears think[box]

I [Ian Charnas] joined Case Western Reserve University in 2011 to help start Sears think[box], a makerspace and incubator that is free and open to the public. If you have an idea for a startup, here you'll find everything you need to go to market, from high-tech prototyping facilities to business and legal resources.

Since opening, this 7-story, 50,000 square foot facility has exploded in popularity and now receives over 6,000 visits a month. Startup companies at think[box] and associated campus entities have raised over $12 million and include ventures in medical devices, green energy, consumer electronics, robotics, and more.
We [The Fire Guys LLC] are an Ohio based flame effect company. We specialize in the design, creation, building, and disp
The Fire Guys LLC is at Ingenuity Cleveland.
September 24 · Cleveland ·
Please come out today to Ingenuityfest 2022 and say hi! The fire guys will be here all weekend showing off our mutant vehicle Uuna Ahi along with Rising Phoenix. In addition we are hosting Capt. Nemo's flaming carnival. Event is open 1pm-1am today!
Uuna Ahi
FIRE GUYS LLC
Matt Hummel and Nate Clark are the Fire Guys LLC - IngenuityLabs members who create a spark at home and across the country. Returning from its maiden voyage to Burning Man, Uuna Ahi means "lots of fire," and was built collaboratively with Stephanie Hummel, John Kasunich, Dan Austin, Matt Edick, and many more, with help from The Ingeneers. See it lit Friday and Saturday after dark. *Created in IngenuityLabs.*

Phoenix Rising
EMILY APPELBAUM, JOHN KASUNICH, FIRE GUYS LLC
Created as part of the Cuyahoga 50 celebration in remembrance of the 1969 Cuyahoga River Fire, Phoenix Rising is a testament of hope and rebirth. With The Ingeneers.

Cap'n Nemo's Flaming Carnival
Hailing from Chicago, this larger thank life fire carnival extravaganza is a hot take on traditional midway games.
I wish I had had more time that evening to learn about this Flaming Carnival and other related performances by The Fire Guys -- flames shoot out as you play carnival games!
Here is a 2017 video about Cap'n Nemo's Flaming Carnival that I found. The video, along with the tweets I shared, will give you an idea of what the carnival was like -- but you really had to experience it in person! I hope Cap'n Nemo's Flaming Carnival returns at future IngenuityFest weekends, so that I can learn more.
More at IngenuityFest 2022
Fire, lights, robot costume, roller skating, art, Legos -- During my quick IngenuityFest walk-through, I saw so much!
It was so good to catch up with Daniel Dudley at IngenuityFest.
Cleveland Game Developers
We are a group of Developers, Artists, Musicians, and Creative Folk who make games! Our experience ranges from industry veterans to those with a new found interest in game development. CGD is focused on education and building the local game development community in Northeast Ohio.
I'm Jarryd Huntley! I'm a game developer based out of Cleveland, Ohio, USA. I co-authored the book Game Programming for Artists. I specialize in game programming, and have helped port console games like Quench, and EarthNight on Switch and PS4. I'm currently Lead Programmer on We Are OFK, coming out this year!

I help organize a large game development community called the Cleveland Game Developers, and I've participated and help run over a dozen game jams.

My studio Polytundra also works on original titles like Art Club Challenge and #ProjectBigHeart as well.

I enjoy sharing what I've learned by giving talks about game development and game design at events like GDC(2 ,3 ,4 ), IndieCade, and other conferences around the world.

Twitter is the best way to reach me: https://twitter.com/JarrydHuntley. Feel free to reach out if you have any questions or just want to say hi!
It is always good to see Jarryd Huntley at IngenuityFest and other tech events around the community, but it was extra special this year, since I have not attended many events due to pandemic restrictions. Jarryd let me know that he just launched the "We Are OFK" game, and that The Cleveland Game Developers are now meeting again in person.
Thank You, Sponsors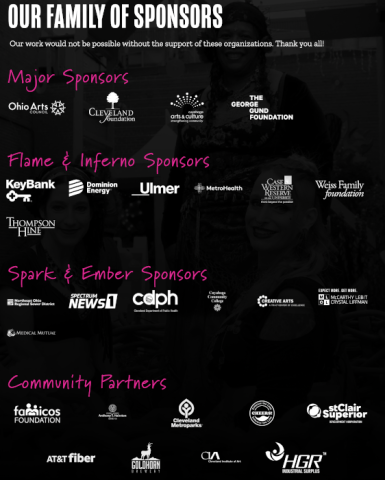 Enlarge Image
I enjoy IngenuityFest every year, but this year was special, since I saw people I had not talked to in several years due to COVID-19 safety measures. Thank you to the IngenuityFest sponsors that brought us all together!
After I left Jarryd Huntley at The Cleveland Game Developers booth, I saw that he had taken a walk-through of the Hamilton Collaborative to share what he saw at IngenuityFest 2022. I am so glad that he took the time to capture the atmosphere of the evening in his videos that he shared on Twitter:
MORE from IngenuityFest 2022 - Expo: Ingenuity
IngenuityFest brings together an exciting and eclectic mix of bands, artists, artisans, performers and creatives.
Thank you to everyone who shared on Twitter their IngenuityFest 2022 experience! Here is some more of what was shared:
My son and I talked to Jim Ridge (@ridgej), the founder of Share The River (@ShareTheRiver), as we were leaving IngenuityFest. It was good to talk to him in person after all these years, and hear from him about the success of the 2022 Share the River's Blazing Paddles Paddlefest, which returned to Cleveland on Saturday, July 23, 2022.
Emanuel Wallace's IngenuityFest Photos & Cleveland Scene Articles
This year's IngenuityFest— Expo: Ingenuity traced a history of imagination through time and place, highlighting the ability of expositions to bring people together to uplift achievement and human ingenuity.
I knew that Emanuel Wallace had taken photos at IngenuityFest, since I saw those that he shared on Twitter, but did not see his all of his photos on the Cleveland Scene website until the day I was finishing the draft of this blog post. You should definitely take the time to enjoy Emanuel Wallace's photos in his article:
I also found a second post-IngenuityFest-weekend article via a Cleveland Scene tweet. I really appreciate this article because it presents some of what I missed this year at IngenuityFest 2022, and gives some of the history of the founders and reasons for the event. Most years, I take all three days to talk to as many people as possible presenting at this Cleveland weekend event, but since I was not able to do so this year, I enjoyed learning more in this Cleveland Scene article by Ashley Lubecky:
IngenuityFest Once Again Brings Community, Kindness, Innovation, and Fun to Cleveland
One of a kind local festival draws on traditions of World's Fair and international expos
By Ashley Lubecky on Monday, September 26, 2022 at 9:12 am, Cleveland Scene

Aside from all the fun, festival goers were able to find important resources that are located within the Cleveland area, with organizations promoting services ranging from mental health to food insecurity. The Cleveland Rape Crisis Center, Cleveland Department of Public Health, Recess Cleveland, Food Strong, among others, were on hand.
. . .
Ingenuity was founded in 2004 by James Levin and Thomas Mulready with the goal of showcasing "the wide range of cultural strengths in the Northeast Ohio region, while cultivating a new intersection between the arts and technology." In 2013, Ingenuity became a year-round organization, providing important services, creativity, community, education, and economic development to the Cleveland area.
I really like Emanuel Wallace's selfie:
THANK YOU FOR AN AMAZING INGENUITYFEST2022!

WE COULDN'T HAVE DONE IT WITHOUT YOU!

We want your feedback!
"Take the IngenuityFest survey!"
Related Blog Posts
Since its founding in 2004, IngenuityFest has featured both technology and art. These are both areas that interest me greatly, so it is no surprise that I have been writing about IngenuityFest from the first year I started writing my blog in 2012. Learn more by reading my related blog posts from past years:
I have been writing about IngenuityFest since 2012, but I have been taking my family to this great event for even longer. I look forward to attending again next year!