Enlarge Image
What a day! We attended Cleveland's second Rails-to-Trails Conservancy Opening Day for Trails - Cleveland (@RailsToTrails - #RTCOpeningDay) on Saturday, April 13, 2019, at Cleveland Metroparks' Merwin's Wharf (@CleveMetroparks - @MerwinsMgr_ktk - #MerwinsWharf ). We knew to expect a great event, but the very large participation of Clevelanders interested in learning about Cleveland's urban trails was beyond what we had expected.

Enlarge Image
Last year, Stuart attended and wrote in his Rails-to-Trails Conservancy - Opening Day for Trails Cleveland! blog post that he ". . . was impressed by the vast array of local organizations working to improve our community! Their respective missions complement each other, and through a variety of collaborations, they are accomplishing great things!" It was great this year to not only see the great Cleveland trail and environmental protection partners return, but also the large number of people who engaged with these participating partner organizations, and explored the trails by bike and by hikiing.
In this blog post, we will share our @sos_jr tweets and retweets which tell the story of the day in text, photos, and videos. We will also highlight the trail and the environmental organizations that participated, and share what we learned about new trails in Cleveland and plans for more trails nationwide!.
A Great Day to be Outside!!
On Saturday, April 13, 2019, the warm spring weather called for getting outside to enjoy nature. It was perfect for kicking off the trail season at the Opening Day for Trails event in Cleveland. We also saw on Twitter that activities were happening in Akron with Rails-to-Trails Conservancy partner, the Western Reserve Land Conservancy (@WRLConservancy).

Enlarge Image
Our @sos_jr tweets and retweets sharing our experience, and that of others, tell the story of the day. We also want to highlight the organizations that participated for their great work in improving the environment of our community:
While we were taking an enjoyable lunch break at the park's Merwins Wharf restaurant, we missed a presentation by Rails-to-Trails Conservancy Director of Trail Development Eric Oberg, Cleveland Metroparks Chief Executive Officer Brian Zimmerman (@CEO_CleMetParks), and Ward 3 Cleveland City Councilman Kerry McCormack (@KerryMcCormack1). Luckily, the Rails-to-Trails Conservancy shared it on Facebook, so we could embed the video here:
After lunch, we had a chance to talk to Brian Zimmerman and thank him for having the park sponsor programs like Opening Day for Trails - Cleveland and the Cleveland Metroparks Adventure University 2019! (read our blog post here to learn more).
To keep up to date on all that is happening at Merwin's Wharf, you can follow their manager on Twitter at @MerwinsMgr_ktk.
Video: Rotary Club of Cleveland - Rapid Recovery Project
Featuring Co-founder & Project Coordinator Red Line Greenway, Lennie Stover
(@LennieStover - @RotaryCleveland)
Red Line Greenway - links the Cleveland Foundation Centennial Trail Lake Link to two RTA Red Line Rapid Transit stations, and provides a primary commuting corridor from W. 65th Street to downtown Cleveland
The Red Line Greenway is a concept for a nearly three mile multi-purpose trail and greenspace corridor which would run parallel to The Greater Cleveland Regional Transit Authority's (RTA's) Red Line rapid transit tracks from Zone Recreation Center at West 65th Street, through Detroit Shoreway, Ohio City, and into downtown Cleveland. Along the way it would connect with the Stockyards neighborhood, Tremont, and the Flats as it connects directly with LAND studio's Lake Link Trail, the Towpath Trail and the new Rivergate Park and future Cleveland Skate Park.
For years, we had heard about the work of the Rotary Club of Cleveland (@RotaryCleveland) to create the Red Line Greenway. On Friday, September 28, 2018, we learned even more about the development of the greenway where we heard a PechaKucha talk by Co-founder & Project Coordinator Red Line Greenway, Lennie Stover (@LennieStover). See the details in our blog post, PechaKucha Night Cleveland Volume 32 at Sachsenheim Hall (@PKNCLE - #PKNCLE32).
So imagine our excitement when we joined the Red Line Greenway project managers from the Greater Cleveland Regional Transit Authority (@GCRTA) and the Cleveland Metroparks (@CleveMetroparks) as they unlocked the gate to the secure area which led to the future home of this exciting new urban path!!
We can't wait to come back when the greenway path opens! It will be a nice addition to the Cleveland Foundation (@CleveFoundation) Centennial Trail Lake Link which we rode and wrote a blog post about in 2017.
Read more about the Red Line Greenway on these three partner organizations' websites:
See also: Cleveland Metroparks - Re-Connecting Cleveland: Pathways to Opportunity
Go to their individual websites to learn more about the good work of these participating organizations:
Canine Lifeline (@CanineLifeline)
Canine Lifeline is an all-volunteer 501(c)(3) organization that was founded in September 2009. Their mission is to save adoptable dogs from being euthanized.

Bike Cleveland (@Bike_CLE)
See their Biking in Cleveland: A Guide

OUR MISSION
Bike Cleveland is creating a region that is sustainable, connected, healthy, and vibrant by promoting bicycling and advocating for safe and equitable transportation for all.

OUR VISION
Greater Cleveland neighborhoods are connected by a multimodal transportation network where the rules of the road are understood by all. A network of well-designed bikeways and walkways allows all people to safely navigate our communities. Biking, walking, and access to public transit are convenient, safe, used by a majority of people, and a source of pride in our community.

Northeast Ohio Regional Sewer District (@NEORSD - @WallyWaterdrop)
Learn more in our "Water Treatment" blog posts about Northeast Ohio Regional Sewer District Communications Manager John Gonzalez's (@GonzalezJohn) talk at PechaKucha Night Cleveland Volume 33, and Visiting Wally Waterdrop - NEORSD Open House.

Our mission is to provide progressive management of sewage and stormwater through fiscal responsibility, innovation, and community partnerships.

Our vision is to be the environmental leader in enhancing quality of life in the region and protecting its water resources.

Ohio City Bicycle Co-Op (@OhioCityCycles)
Since Stuart is using his bike more, doing events such as the Cleveland Metroparks Trail Challenge (see blog post), he went to Ohio City Bicycle Co-Op to have his bike repaired (see photos on Twitter). Stuart is very grateful for their assistance.

Enlarge Image

OCBC is a non-profit, volunteer-driven cooperative bicycle education center offering riding and repair classes; refurbished used bikes for sale or rent; hands-on learning and shop credit for volunteering; and public shop use, advice, and assistance.

Share the River (@ShareTheRiver )

Share the River promotes the economic, recreational and social vibrancy of Cleveland's waterfront. We create and post original content via our social media channels (Twitter, Facebook, Instagram, YouTube) and website to 1) brand Cleveland as a waterfront city and 2) remind people how a cleaner, more vibrant river is an economic driver for Northeast Ohio. We also repost third-party content we feel provides a context for the various issues and best practices that improve the quality of regional and national natural resources which in turn, improve the quality of life for ALL of us!

Two One Fix Bicycle (@fixbicyCLE)
Two One Fix Bicycle is a full-service, mobile bike shop.
Here are more of our @sos_jr tweets and retweets sharing information relating to the Opening Day for Trails event:
After the Opening Day for Trails - Cleveland event, the following information was shared about the Towpath Trail by Canalway Partners (@canalwaycle ).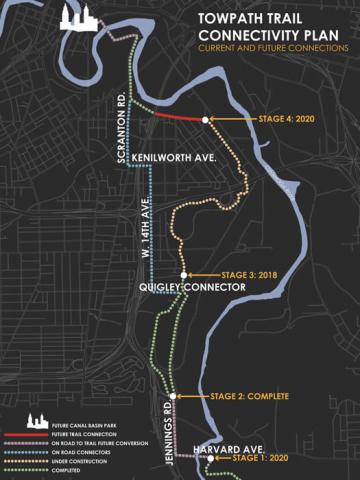 Enlarge Image
AND
As we wrote last year about Opening Day for Trails, Stuart first learned in 2014 about the potential for a trail from Cleveland to Pittsburgh to Maryland to Washington, D.C. He about this idea when he was invited to dinner by the Rails-to-Trails Conservancy Head of Strategic Initiatives, Katie McKinney Guerin and the Conservancy's Director of Trail Development, Midwest Regional Office, Eric Oberg. They showed him a map of a proposed multi-state trail system that would include Cleveland (see 2014 map in this tweet).
This year, Eric Oberg was kind enough to give us an update on the Industrial Heartland Trails Coalition's work to connect Cleveland to the Great Allegheny Passage rail-trail (@GAP_Trail) in Pittsburgh. There is a lot of hard work to be done, but we were very encouraged by the plan Eric Oberg showed us.
Learn more from these online resources:
We also learned from Eric Oberg about an exciting idea for a nationwide trail -- the Great American Rail-Trail. He told us to watch for more details at the May 8, 2019, launch event where the cross-country route will be revealed.
A View From … The Great American Rail-Trail
Posted 01/23/19 by Laura Stark in America's Trails, Building Trails

. . . The route is more than 50 percent complete—the milestone RTC has long-identified as the threshold for committing to making this trail a reality. Separated from vehicle traffic, travelers will be able to truly enjoy, embrace and experience those amber waves of grain and purple mountain majesties that make up the American landscape from Washington, D.C., to Washington State. . . .
There are 16 more blog posts that we have written about the Cleveland Metroparks that you can read here if you are interested in Cleveland area outdoor activities. Here are six that we recommend, since they relate directly to the trail activities being promoted by the park:
Thank you!

Enlarge Image
Thank you, Rails-to-Trails Conservancy and Cleveland Metroparks, for not only sponsoring this great Cleveland event, but for your year-round work to improve trails in our region.
April 13, 2019, was our nation's seventh annual Opening Day for Trails, and the second Opening Day for Trails - Cleveland. We look forward to participating in future years, and getting out on the trails!
We close this blog post with a message of trail celebration from Rails-to-Trails Conservancy President Ryan Chao:
Opening Day for Trails is the perfect opportunity for people across the country to celebrate America's spectacular trail system—and to connect with one another. Whether it's to play, exercise, volunteer, spend time in nature, explore their community or all of the above, Opening Day brings together trail users of all variety to appreciate and enjoy these treasured outdoor spaces.