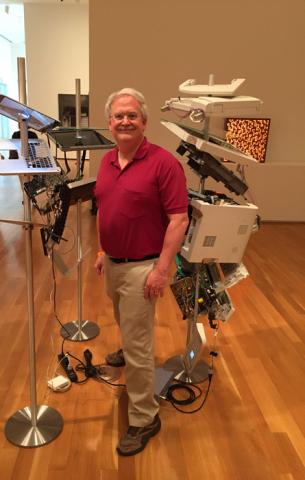 Enlarge Image
Thursday, August 2, 2018, was a great day to explore Akron art! I had planned to go to Akron to spend the afternoon at the FRONT International Cleveland Triennial for Contemporary Art (@FrontTriennial - #FRONTart2018) venues in Downtown Akron (@DowntownAkron), but the day I picked had even more to offer!
Besides receiving free gallery admission to the Akron Art Museum (@AkronArtMuseum) on their "FREE Thursday," there was also a special event announcing a new community service at the Connect with Dot Launch Party! In addition, the nearby Summit Artspace (@AkronAreaArts) had in its main gallery the PARALLAX Contemporary Art Juried Exhibition, which runs until August 18, 2018.
Since the opening of the FRONT International Triennial on Thursday, July 12, 2018, I have visited over six venues before going to the Akron Art Museum. Read about the opening and my five (so far) other FRONT related blog posts by clicking here.

Enlarge Image
1 S High St
Akron, OH 44308

Hours
Tues–Sun: 11–5, Thurs: 11–9

Admission

Adult $10
Senior (65+) $8
Student (with valid ID) $8
Child (17 & under) Free
Free admission every Thursday

The Akron Art Museum presents the most expansive FRONT exhibition, featuring artworks and installations by fifteen international artists. Dedicated to enriching lives through modern and contemporary art, Akron Art Museum showcases regional, national and international art created since 1850. The museum's collection is presented in a spectacular facility designed by Coop Himmelb(l)au and includes over 5,000 artworks, with a strong focus on contemporary painting, sculpture and photography.. Nearly a dozen exhibitions each year present prominent artists in various media including painting, sculpture, photography, video, design and glass.

FRONT at the Akron Art Museum is made possible with support from the John S. and James L. Knight Foundation.
Please read my @sos_jr tweets and retweets sharing my experience at Akron Art Museum's FRONT International Triennial. Please share any photos and videos that you find interesting by retweeting. Please click on the Twitter photos to enlarge them for your enjoyment. Below the tweets is a list of FRONT artists in Akron with links to learn more.
Learn more about the FRONT artists in Akron by clicking on their names: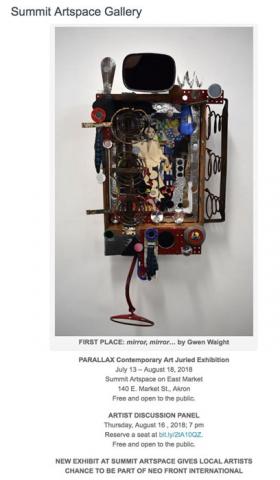 Enlarge Image
As I mentioned above, the added advantage of heading to Akron on the day I visited FRONT in Akron was that Summit Artspace's main gallery was displaying the PARALLAX Contemporary Art Juried Exhibition. Here is some information about the show, followed by my @sos_jr tweets and retweets that contain my photos of some of the show and other galleries at Summit Artspace.
Summit Artspace and its current show, the Parallax Contemporary Art Juried Exhibition, are part of the Akron area's dynamic art contribution to FRONT: International Triennial for Contemporary Art, spreading across Northeast Ohio from July to September 2018.

Parallax, contemporary works from local artists, runs until Aug. 18, 2018 at Summit Artspace on East Market, 140 E. Market St., Akron. The gallery is open Thursdays and Fridays, noon to 7 p.m.; and Saturdays, noon to 5 p.m. Additional hours are on 3rd THURSDAY, Aug. 16, 4-7 p.m.; and Aug. 4 for Artwalk, 5-9 p.m. All free and open to the public.

"You will see some very fine pieces in Parallax by local artists who wanted to be part of the excitement, breadth and resolve of FRONT. Having FRONT extend to Summit Artspace and the Akron Art Museum is a great honor. We think our audience will really be open to all of the arts and culture opportunities coming with FRONT," said Kamelia Fisher, executive director of Summit Artspace.
Please share the tweets below so more people can learn about Summit Artspace.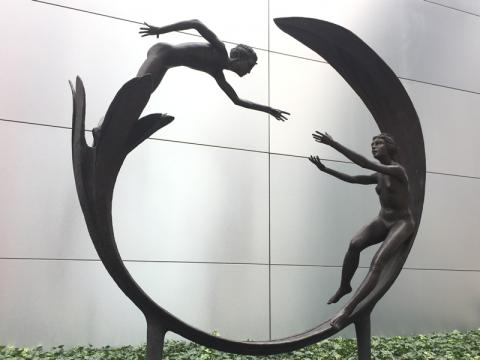 Enlarge Image
The museum's physical galleries allow us to display only a fraction of our 5,000 objects, while this site will eventually make the entire collection available to you. We will continually unveil new objects and additional information, photos and videos for existing works, so be sure to keep checking back to explore and make new discoveries.
A little before 5:00 p.m., I returned to the Akron Art Museum's galleries to see what was currently being displayed from their permanent collection. If you want to know about their full colllection, visit their website at: AkronArtMuseum.org/Collection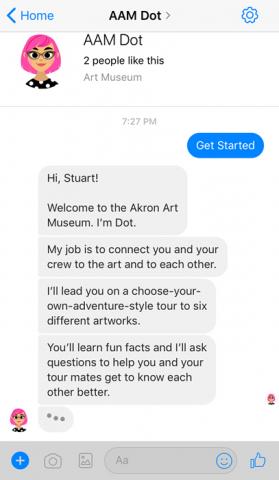 Enlarge Image
of Dot welcoming Stuart
Problem: You are at the museum with family or friends and you want to, you know, learn more about the art. But, you'd also like to actually spend time with your crew.

Problem solved: Meet Dot, your new AAM tour guide. She'll lead you through the museum and give you a chance to connect with your family and friends while you explore the galleries. It all happens through your smartphone. Just connect with Dot on Facebook Messenger and she'll lead the way.
Learn more about how to "Connect with Dot" in the Akron Art Museum's press release: The Akron Art Museum Wants You to Connect with Dot, a New Digital Tour Guide
Thank you, Knight Foundation (@knightfdn), for not only funding Dot, the new Akron Art Museum digital tour guide, but also for your July 25, 2018, tweet announcing how "Dot is an interactive chatbot...," from which I learned about the launch party! I'm glad I follow @knightfdn on Twitter!
Here are my @sos_jr tweets and retweets leading up to the big Launch Party: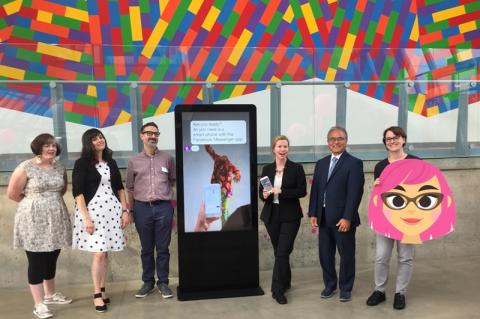 Enlarge Image
The Akron Art Museum Director and CEO, Mark Masuoka (@MarkMasuoka), welcomed everyone, and invited all to tour the museum with Dot. The following tweets show photos from the Connect with Dot Launch Party and screenshots showing Dot at work.
I have met Yoly Miller (@Yolyinbetween) before from her great volunteer work with PechaKucha Akron (@PKAkron), so it was great to have some time to talk to her at the Connect with Dot Launch Party. (Learn more in my PechaKucha blog posts here.) Yoly told me that she also does work for the The Akronist (@Akronist). Here is The Akronist's Facebook video that she took of the opening ceremony introducing Dot:
I often see Kabir Bhatia (@KabirBhatiaTime) interviewing and recording presentations around northeast Ohio. It was great to talk to him tonight. He let me know that he would be sharing his story about the Connect with Dot Launch Party on WKSU (@WKSU) on Monday. I will watch for it and share it on Twitter.
Finally, I met for the first time, Dominic Caruso, who is the marketing manager for the Akron Art Museum. He sent me a Twitter direct message letting me know to watch for:
I look forward to hearing other people's reactions to this new digital tour guide. I enjoyed my first experience with it, and look forward to see what others share on Twitter and other social media with the hashtag: #ConnectWithDot
Thank you to both the Akron Art Museum and Summit Artspace for the great afternoon and evening in Akron!

Enlarge Image