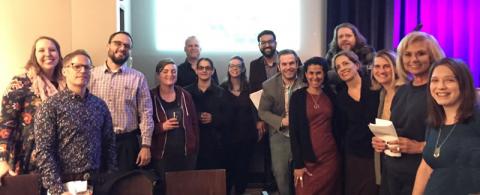 On Thursday, February 21, PechaKucha Night Cleveland will be live on stage at The Music Box in the Flats West Bank.

Japanese for "the sound of conversation," PechaKucha features a rapid succession of 8-10 speakers, each sharing new ideas about topics ranging from visual art, architecture, and technology to food, film, music, photography and furniture design through a vibrant 400 second long presentation (20 slides X 20 seconds each). . . .
I always enjoy attending (and writing about) PechaKucha Night events in Cleveland and Akron. Therefore, I was glad to be able to go to Cleveland's Music Box Supper Club on Thursday, February 21, 2019, for PechaKucha Night Cleveland - Volume 33.
After Michael Christoff's PechaKucha Night Cleveland - Volume 33 talk, he made the BIGGEST announcement in the ten+ years of the organization:
The next event, Global PechaKucha Night: Waterways, will be an international event spotlighting the importance of water and sustainability.