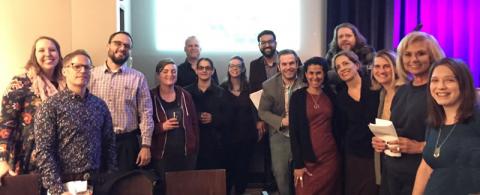 Enlarge Image
On Thursday, February 21, PechaKucha Night Cleveland will be live on stage at The Music Box in the Flats West Bank.

Japanese for "the sound of conversation," PechaKucha features a rapid succession of 8-10 speakers, each sharing new ideas about topics ranging from visual art, architecture, and technology to food, film, music, photography and furniture design through a vibrant 400 second long presentation (20 slides X 20 seconds each). . . .
I always enjoy attending (and writing about) PechaKucha Night events in Cleveland and Akron. Therefore, I was glad to be able to go to Cleveland's Music Box Supper Club (@MusicBoxCLE) on Thursday, February 21, 2019, for PechaKucha Night Cleveland - Volume 33 (@PKNCLE - #PKNCLE33).
I need to tell you the story about the above photo of the presenters. Normally, I try to get some candid photos of the speakers and organizers as they are getting ready, but I don't want to interrupt the organizer's activities. As I was taking a photo, I heard one of the organizers say -- hey, everybody, Stuart is taking our picture! Everyone suddenly turned to look my way, and for the first time, I got a photo where everyone is looking at the camera!
What follows are my 94 @sos_jr tweets and retweets which include photos and videos relating to the event, and additional information about the presenters at this fun evening.
This first group of tweets will give you information about the speakers, and announcements that were made before the PechaKucha Night Cleveland - Volume 33 (@PKNCLE - #PKNCLE33) event. The PechaKucha Night Cleveland organizers do a great job of sharing announcements about the speakers on Twitter as @PKNCLE and on Facebook at: Facebook.com/PKNCLE
Thursday, February 21, 2019 - Pre-Event Tweets
PRESENTER ANNOUNCEMENT: Not all wastewater treatment careers begin with iambic pentameter. This one did. John Gonzalez, communications manager for Northeast Ohio Regional Sewer District and the leader behind NEO's most beloved Twitter account, will join the #PKNCLE33 stage to share the similarities between his creative-writing beginnings and the work he now does with the utility's social media and communications strategy.
The night started out with an interesting talk by John Gonzalez (@GonzalezJohn) about the way that the Northeast Ohio Regional Sewer District uses humor in a creative way to connect to people on Twitter. Their @NEORSD Twitter feed is more effective in communicating their message through their witty tweets than presenting just dry facts from this utilty. Also, since people are engaged with the humor, they are more likely to share and accept the underlying educational message. Even before PechaKucha Night Cleveland - Volume 33, I have noted that people often praise the Northeast Ohio Regional Sewer District for their @NEORSD tweets.
I also liked how John Gonzalez tied in his early relationship with his wife and his poetry to the work he does now for the Northeast Ohio Regional Sewer District and his current role as a father.
Side note: I have been following @NEORSD and their "official spokesdrop" -- @WallyWaterdrop -- for a long time. It is interesting that in the past I interacted on Twitter more with Wally (a friendly cartoon character brought to life at Northeast Ohio Regional Sewer District events as a blue costumed mascot), but now @NEORSD is the more popular Twitter feed. Who would have thought the Twitter name with the word sewer in it would be so popular!
As I was preparing this blog post, I listened to Travis Loop's (@TravisLoop) podcast entitled Words On Water #71: John Gonzalez on the Popular Twitter Account @NEORSD from the Water Environment Federation (@WEForg). I recommend listening to this podcast to learn how John Gonzalez uses the "...wildly popular and funny Twitter account @neorsd to educate, engage, and entertain customers."
My @sos_jr tweets and retweets about the talk by @GonzalezJohn:
Here are some of my blog posts which include Wally Waterdrop and NEORSD:
Other water treatment related blog posts:
PRESENTER ANNOUNCEMENT: Ginger Christ has reported on transportation, real estate, manufacturing and business news for local newspapers and national magazines for the past 11 years.
I have been following Ginger Christ (@GChristCLE), the health reporter for The Plain Dealer (@ThePlainDealer), on Twitter for along time. As a result, I have been reading her articles, and those of of other reporters, that she shares on Twitter.
It was great to hear her in person -- one of the great benefits to attending PechaKucha Night Cleveland events. It struck me that her talk reenforced my positive impression of her from social media. She talked not only about the importance of journalism, but also how we, the public, should view journalists as being part of our community. They are us.
Through Twitter, I have also learned that Ginger Christ is the chair of The Plain Dealer News Guild (@PDNewsGuild) | Northeast Ohio Newspaper Guild Local One, which was established in 1934 and is part of the Communications Workers of America (@CWAUnion). The Plain Dealer News Guild has launched a campaign to rally the community to support The Plain Dealer. Read the Our Story PDF file to learn more about The Plain Dealer News Guild's current efforts.


Open the Our Story PDF in new window
My @sos_jr tweets and retweets about the talk by @GChristCLE:
PRESENTER ANNOUNCEMENT: Last year BAYarts celebrated its 70th anniversary under the direction of volunteer-turned-executive-director Nancy Heaton. With a love for visual arts and heart for arts advocacy, Nancy will share her vision at #PKNCLE33!
I have great memories of attending art functions at BAYarts (@BayArts_Ohio) many years ago. When I was in college, I attended an art event there, which included participants from the Society for Creative Anachronism (@SCAsocial). My wife and I attended an art event many years ago, and since BAYarts is within the Cleveland Metroparks Huntington Reservation (@CleveMetroparks ), we visted the park's beach after the BAYarts event. I remember it as an interesting area, but I have not visited BAYarts in many years.
I enjoyed refreshing my memories of this unique place through the PechaKucha Night Cleveland talk by Nancy Heaton, the executive director of BAYarts. She did a great job of not only presenting their history, but also the exciting, new developments in recent years.
Here is a description of the BAYarts campus, and a video tour from their About Us web page:
BAYarts is in the Huntington Reservation in Cleveland Metroparks, located in Bay Village near the border of Cuyahoga and Lorain Counties. The BAYarts campus includes the John Huntington House, the Irene Lawrence Fuller House, The Station House leased by Vento Trattoria and a historic caboose. Until 1927 when the land was purchased by the Cleveland Metroparks Department, the Huntington Reservation was the summer estate of John Huntington, inventor, industrialist and key founder of the Cleveland Art Museum. BAYarts campus is within walking distance of Lake Erie Nature & Science Center, a frequent collaborator, and Huntington Beach. Nearly one million visitors enjoy the Lake Erie shore and the beauty of its natural areas and park settings annually. You can see a read about the BAYarts campus on Cleveland.com, in their Cool Spaces series.
It was interesting to learn that BAYarts now manages the building which was the Huntington Playhouse that closed in 2015:
The goal of BAYarts is to renovate the former Playhouse, so it can be used on the Arts campus for classrooms and events.

BAYarts classes sell out quicker than you can say "Hamilton tickets." That's why we're adding more CLASSROOMS, MAKERS space, MUSIC rooms, a STAGE and SCREEN for YEAR-ROUND entertainment highlighting northeast Ohio's diverse cultural offerings.
Thank you, Nancy Heaton, for sharing the history and new developments of BAYarts in your talk!
My @sos_jr tweets and retweets about @BayArts_Ohio:
PRESENTER ANNOUNCEMENT: Barbara Marlowe will join us on the #PKNCLE33 stage to share her riveting personal story of how a chance encounter with an image altered the course of her life forever, by inspiring a love that has bridged the divide across continents and cultures.
In her talk, Barbara Marlowe (@Marlowe_Barbara) shared the story of Teeba Furat Marlowe which has now been developed into the book, A Brave Face
It was a typical Sunday morning in 2006 when Barbara Marlowe first saw the photo that changed her life-a photo of four-year-old Teeba Furat Fadhil, whose face, head, and hands had been severely burned during a roadside bombing in the Diyala Province of Iraq. It was Teeba's eyes that captivated Barbara. They were wide, dark, and soulful. They seemed to cry out across oceans with a single message: Help me. . . .

A Brave Face includes material written by Teeba, now a young woman, and her Iraqi mother, Dunia, at key moments in their stories. The book also explores the connection forged between Barbara and Dunia over the past decade-a deep bond between two mothers that has flourished despite the distance, the strife of war, and the horrors of Al-Qaeda and ISIS.
Here is a March 4, 2019, Fox 8 News Cleveland (@fox8news) video with Teeba Furat Marlowe and Barbara Marlowe. In the video of their story, they also mentioned the role of University Hospitals' Rainbow Babies and Children's Hospital (@UHhospitals - @UHRainbowBabies):
Also, see the April 30, 2015, Fox 8 News Cleveland video from Margaret Daykin's article, Teeba's hoping her smile will help save lives
My @sos_jr tweets and retweets about the talk by @Marlowe_Barbara:
During the break, PechaKucha Night Cleveland Co-Founder Michael Christoff (@mchristoff) hinted that there would be a BIG announcement at the end of tonight's event!
PRESENTER ANNOUNCEMENT: For pedestrians, those who like to pedal, and those who'd like to avoid #CLE potholes, you won't want to miss Cleveland-based author and planning advocate, Angie Schmitt.
I follow Angie Schmitt (@schmangee) on Twitter, so I knew of some of the areas she promotes on social media. During her PechaKucha Night Cleveland talk I learned more details about her work.
I really enjoyed the photos she showed of how streets were used before the automobile, and also creative ways that people are reclaming streets today.
My @sos_jr tweets and retweets about the talk by @schmangee:
Angie Schmitt is an editor for Streetsblog (@StreetsblogUSA), and you can find her Streetsblog articles here: USA.StreetsBlog.org/Author/Angie/
Streetsblog's description from their website "About Us" page:
Streetsblog is a daily news site that connects people to information about how to reduce dependence on cars and improve conditions for walking, biking, and transit. Since 2006, our reporters have broken important stories about efforts to prevent pedestrian injuries and deaths, build out bicycle networks, and make transit more useful. Our writing raises the profile of these issues with policy makers and makes arcane topics like parking requirements and induced traffic accessible to a broad audience. . . .

Streetsblog USA covers federal transportation and land use policy, as well as stories around the country about how to reform our highway-centric model of transportation and development. Our daily readers include Beltway decision makers, transportation policy experts, transit advocates, urban planners, and people who just want better walking, biking, and transit for their neighborhoods.
PRESENTER ANNOUNCEMENT: A career spent untangling complicated systems, processes and projects in the public and nonprofit sectors, has led Kauser Razvi to be even more passionate about citizen engagement and collectively solving social issues.
Kauser Razvi (@KSRazvi) talked about engaging citizens to improve their community. An interesting example of a community project that she shared was Literary Lots (@LiteraryLots), for which she was the project manager. Working with Cleveland Public Library (@Cleveland_PL ) and other partners, the Literary Lots project used stories from children's books to create imagination areas in unused space in the community.
Here is the description and video from the Literary Lots website.
Literary Lots brings magic and the power of imagination to urban kids by turning vacant, underutilized spaces into scenes from children's books. By working with cultural institutions and local non-profits, Literary Lots will not only bring engaging programming to neighborhood kids, but will also provide a transformative experience that combines creative land re-use, artist engagement, youth education, and urban renewal to be enjoyed by all.

Besides, what could be more inspiring than by taking a stroll through a book on a beautiful summer day?
My @sos_jr tweets and retweets about the talk by @KSRazvi:
Here is a video entitled Kauser Razvi: Lessons Learned In Bringing Fantasy to Life, from her November 2016 CreativeMornings Cleveland (@CM_CLE - @creativemorning) talk. At 7:55 in the video she explains Literary Lots:
PRESENTER ANNOUNCEMENT: Two decades ago, Cleveland became a hotbed of sustainability. Marc Lefkowitz's job was to document the movement. Soon, that wasn't enough, and he joined some of the grassroots advocacy campaigns. They inspired some of Marc's own sustainability projects. Mostly, they served as examples of the power of collective change to create a green city on a blue lake.
Despite attending many Cleveland Museum of Natural History (@goCMNH) events as a member, and writing nine blog posts that contain information about the museum, I knew very little about their GreenCityBlueLake Institute (@GCBL). To be able able to learn directly from leaders like Marc Lefkowitz (@MarcLefkowitz), the GreenCityBlueLake Institute interim director, is why I recommend people attend PechaKucha Night Cleveland events.
I first heard that the GreenCityBlueLake Institute was the sustainability center of The Cleveland Museum of Natural History (@goCMNH) when I was writing a blog post several years ago. I included a link to Marc Lefkowitz's (@MarcLefkowitz), February 5, 2015, article, Eastside Greenway would improve biking in the suburbs, in my blog post entitled: Eastside Greenway - A Vision for a Future Eastside Cleveland Bikeway.
My @sos_jr tweets and retweets about the talk by @MarcLefkowitz:
GreenCityBlueLake Institute website describes their work as:
To learn the latest information, I recommned seeing the GreenCityBlueLake Institute blog post at: GCBL.org/Blog
PRESENTER ANNOUNCEMENT: Affectionately known as the Lady Butchers, classically-trained chefs Melissa Khoury ("The Queen of Pork") and Penny Barend ("Local Meat Maven") started Saucisson in 2013 to provide unique and hard to find products.
Melissa Khoury (@iHeartSwine) and Penny Barend (@PennyPiccola) of the Saucisson butcher shop shared their story. They are a Cleveland company which provides local meat from animals that are hormone- and antibiotic-free, and are raised humanely.
While writing this blog post, I found a video that was created by Destination Cleveland (@TheCLE) that features Saucisson's story:
Video: Saucisson: This old-school butcher shop is a local favorite in Cleveland.
My @sos_jr tweets and retweets about the talk by @iHeartSwine and @PennyPiccola:
You might want to also see this blog post:
PRESENTER ANNOUNCEMENT: Last, but certainly not least, our PechaKucha Night Cleveland Creative Team Leader Michael Christoff will share context, perspective, and a big #PKNCLE announcement.
To finish the evening, we heard from PechaKucha Night Cleveland Creative Team Leader Michael Christoff (@MChristoff) about what it has meant to be part of this dynamic group for over 10 years! It was a very powerful message that meant a lot to me personally, since I truly believe in what the PechaKucha Night Cleveland team is doing here in Cleveland. I really enjoyed hearing Michael's vision of bringing the different creative silos in Cleveland together using the PechaKucha format (@PechaKucha).
Congratulations and a BIG thank-you to Michael and the whole team for their outstanding success over this past decade!
My @sos_jr tweets and retweets about the talk by @MChristoff:
Announcing: Thursday, June 20, 2019 -- the BIGGEST PechaKucha Night Cleveland Ever!

Enlarge Image
After Michael Christoff's (@MChristoff) PechaKucha Night Cleveland - Volume 33 (@PKNCLE - #PKNCLE33) talk, he made the BIGGEST announcement in the ten+ years of the organization:
Global PechaKucha Night: Waterways will be an international event spotlighting the importance of water and sustainability.
Mark your calendars and plan to bring your friends on Thursday, June 20, 2019, for PechaKucha Night Cleveland - Volume 34 (@PKNCLE - #PKNCLE34) at Jacobs Pavilion at Nautica (@JacobsPavilion). The founders of the international PechaKucha (@PechaKucha) organization only attend a very limited number of PechaKucha events outside of Japan each year, but recognizing the unique nature of the 2019 event in Cleveland, they will be coming to our city! Watch for updates for other internationally important presenters.
This big event is being made possible by the partnership that the leaders of PechaKucha Night Cleveland have made with the Cleveland Foundation (@CleveFoundation), Sustainable Cleveland 2019 (@sustainableCLE), and LAND studio (@cleveLANDstudio).
Those of you who know Cleveland's history know that 2019 is a special anniversary for waterways in Cleveland. The Global PechaKucha Night: Waterways event will focus on the potential for the next 50 years. Cleveland is a special city in relation to its waterfront assets since it sits on one of the Great Lakes -- Lake Erie -- and has the Cuyahoga River flowing through it.
We are fortunate that Share the River (@ShareTheRiver) captured and shared the big announcement in this video:
I highly recommend following @ShareTheRiver and reading Share the River's blog posts. I have attended many events in Cleveland after learning about them from @ShareTheRiver managed by Jim Ridge (@ridgej ).
Exploring The Flats
After the event, I took some time to look around the Cleveland Flats to see where they were setting up for Brite Winter 2019 (@Britewinter - #Brite10) -- the tenth year for this outstanding outdoor winter party -- and look at the Cleveland Metroparks (@CleveMetroparks) nighttime lighting along the Cleveland Foundation (@CleveFoundation) Centennial Lake Link Trail.
Learn more in my blog posts:
While I was writing this PechaKucha Night Cleveland Volume 33 at Music Box Supper Club blog post, I also posted Brite Winter 2019 -- #Brite10 -- Tenth Year of Cleveland Outdoor Winter Fun!, where you can learn about all the fun this year at Brite Winter!
In addition to PechaKucha Night Cleveland (@PKNCLE) events, I highly recommend attending PechaKucha Night Akron (@PKAkron) events. They are great!
Related Blog Posts
I have now written thirteen blog posts about the great PechaKucha events (click here to view) in Cleveland (@PKNCLE) and also in Akron (@PKAkron).
If you are interested in learning more about PechaKucha Night Cleveland, please see these eight blog posts:
In 2016, the PechaKucha Night Cleveland leadership team (@PKNCLE) asked me to do a special PechaKucha Talk at the first-time-ever PechaKucha Night Cleveland Past Presenters Happy Hour. See my PechaKucha slides, video of my talk, and read more in our blog post: A PechaKucha Talk by Stuart O. Smith, Jr., about PechaKucha Night Cleveland
I really appreciate the PechaKucha Night Cleveland leadership team, presenters, and sponsors, and want to thank them for all these great events.