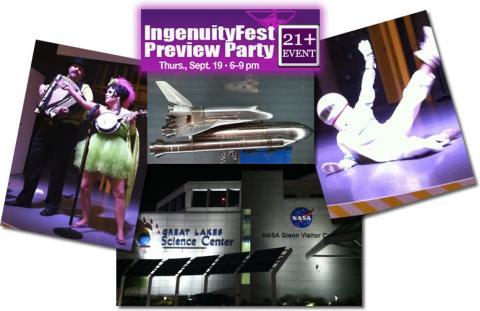 ​
Anyone who knows me for any length of time knows that I enjoy going to technology and arts events. Ingenuity Cleveland's "IngenuityFest:Festival of Art & Technology" is my main event during the year! That is why I was excited when I learned that the three-day event now had a prequel - the IngenuityFest 2013 Preview Party!
Watch for my full blog post on Ingenuity Cleveland 2013 that I plan to publish next week -- come back soon!
The following are my photos, video, and tweets from the September 19, 2013, IngenuityFest Preview Party.
IngenuityFest 2013 Preview Party
On Thursday, September 19, 2013, the Great Lakes Science Center (GreatScience.com - @GLScienceCtr) had a great new pre-event, the IngenuityFest 2013 Preview Party! Here is the description from the Science Center's website:
We're kicking off Cleveland's famous IngenuityFest with our own brand new event! Science After Dark is a fun and interactive adults-only evening where you can join scientists, artists, musicians and other adults in having fun and learning about a science topic in a kid-free setting!
I had a great time! The Science Center includes the NASA Glenn Visitor Center (@NASAglenn), and thus always adds more interesting space exhibits. (See my blog post on the Cleveland NASA TweetUp visit to the Science Center.) 
In addition to the science exhibits, I enjoyed:
If your device does not support Flickr.com photos,
please view them here
My September 19, 2013, IngenuityFest tweets and re-tweets:
Thx @DRUlm for the retweet about tonight's @Ingenuityfest preview party tickets at @GLScienceCtr: http://t.co/v2vka8igVH

— Stuart O. Smith, Jr. (@sos_jr) September 19, 2013
Tonight @Ingenuityfest's Preview Party at @GLScienceCtr! http://t.co/lRoaLMtNFe #IngenuityFest More #Cleveland events http://t.co/sSIS9L2aXU

— Stuart O. Smith, Jr. (@sos_jr) September 19, 2013
On 9/20 #Ingenuity will have a Happy Hour from 5-7p w/ drink specials. Learn what else will be going on @ 5pm: http://t.co/VzLCqgZfNH

— Ingenuity Festival (@Ingenuityfest) September 18, 2013
.@Ingenuityfest FYI, I used video from your "Bal Ingénieux, #Ingenuity #Cleveland" event for my #HTML5 Video post: http://t.co/Nrf5FUlHgg

— Stuart O. Smith, Jr. (@sos_jr) September 19, 2013
#IngenuityFest starts tom. 9/20! Happy Hour from 5-7p w drink specials & several acts will perform @ 5. Get there early 4 no disappointments

— Ingenuity Festival (@Ingenuityfest) September 19, 2013
At @IngenuityFest'Preview Party. @GLScienceCtr home @NASAglenn Visitor Center http://t.co/lRoaLMtNFe http://t.co/CUnPHK35yC #IngenuityFest

— Stuart O. Smith, Jr. (@sos_jr) September 19, 2013
Showtime at @IngenuityFest'Preview Party. http://t.co/lRoaLMtNFe #IngenuityFest pic.twitter.com/XS377vhEHC

— Stuart O. Smith, Jr. (@sos_jr) September 19, 2013
Let person at @IngenuityFest's laser printer at @GLScienceCtr know about @CDPUG 9/26 3D Print mtg http://t.co/xNlZRolu3Y #IngenuityFest

— Stuart O. Smith, Jr. (@sos_jr) September 19, 2013
.@headlongamy gr8 talk to U at @GLScienceCtr for @IngenuityFest about #redrovers. Enjoy #Cleveland #IngenuityFest pic.twitter.com/jBCCobXM3J

— Stuart O. Smith, Jr. (@sos_jr) September 20, 2013
Thx @GLScienceCtr for hosting @IngenuityFest's Preview Party. http://t.co/lRoaLMtNFe #IngenuityFest #HappyInCLE pic.twitter.com/5rRcxsO9Rd

— Stuart O. Smith, Jr. (@sos_jr) September 20, 2013
.@Ingenuityfest I'm glad you liked "Bal Ingénieux, #Ingenuity #Cleveland" event for my #HTML5 Video post: http://t.co/6UIMoKbZhr

— Stuart O. Smith, Jr. (@sos_jr) September 20, 2013
Who's going to @IngenuityFest this weekend? Stop by and visit us! http://t.co/5HYGotqkhy

— Bizdom Cleveland (@BizdomCleveland) September 19, 2013
If you are interested in events like this, I suggest you save the date for these upcoming Science After Dark events, and visit GreatScience.com for details on these and other programs: