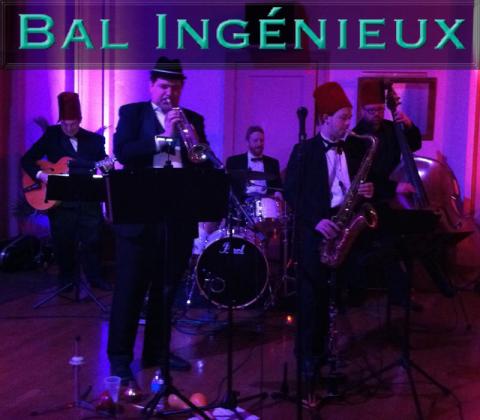 Enlarge Bal Ingénieux 2014 Photos
Bal Ingénieux 2014 was a fun fundraiser for Ingenuity Cleveland (@Ingenuityfest) which took place at a new location this year -- Slovenian National Home -- on May 3, 2014.
Many of the performances that I saw were also involved last year, so to learn more and see last year's photos/videos, I invite you to also view my 2013 blog post: Bal Ingénieux, Ingenuity Cleveland
The Show!
The Bal Ingénieux website (BalIngenieux.com) provides the following list of performers. I added the links where I could find official websites for the entertainment -- many of them can also be found on the Voix de Ville Cabaret website.
Throughout the night, you'll be able to enjoy performances by:
The Syncopated Sin Swing Band | Pinch and Squeal! | //benitez_vogl | TravestyDance | Last Call Cleveland | Titano! The World's Laziest Strongman | Satori Circus | Will Oltman, World famous Juggler | Svetlana Derisive Escape Artist | Paco Fish, Ecdysiast du monde! | Red Campion Opera …and many more!
I had already seen many of these acts at Cleveland's IngenuityFest 2013 and the IngenuityFest 2013 Preview Party, but it was still fun to see them again. Here are a few of my photos and videos from the evening's entertainment. (Please note that you can click on photos to enlarge them.)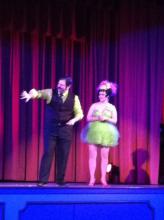 Your hosts for the evening,
Pinch and Squeal!

Satori Circus

Satori Circus

The Syncopated Sin Swing Band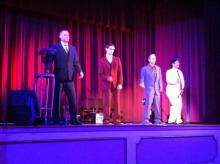 The comedy of Last Call Cleveland

Titano! The World's Laziest Strongman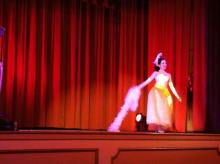 Dahlia D'Luxe
I also recommend you view Frank Lanza's (@fjlanza) official Bal Ingénieux 2014 photos on their website or on the Ingenuity Cleveland Facebook page. Attendees were encouraged to wear costumes to the Bal Ingénieux, and as you will see in these photos, many did!
Shadow Dancing!
While I was watching the main show upstairs, some exciting dancing was happening on the lower level. After the main show, I finally went down to where a DJ was playing music, and where many of the people dancing were wearing masks. It made for a fun environment where people danced freely with partners and as solo dancers.
All I can tell you is that dancing was scheduled to end at 2:00 a.m., and at 2:20 a.m., it was still going strong (at this point it was shut down). At both Bal Ingénieux 2013 and this year, if the dancing had been allowed to continue beyond the official closing time, I know that it would have continued for many more hours into the night. It is always a sign of a successful event when the participants don't want to leave at closing time -- they are having too much fun.
My videos show a very spontaneous occurrence that ended up being one of the most unique happenings of the evening -- shadow dancing. What made it so great was the fact it was NOT planned -- it happened naturally. Some of the dancers started dancing behind the screen displaying photos from past Bal Ingénieux events and from the Kakoon Arts Club parties from the early 20th century. I don't know if these photos and videos will give you the full flavor of what happened -- you will just need to come to the next Bal Ingénieux and hope something like this happens again.
Tweets and Retweets
Here are my @sos_jr tweets and retweets that will give you a flavor of the evening. I also suggest seeing others' tweets using the #BalIngenieux hashtag. I always like to share tweets like these about events, since they reflect a real-time glimpse of an event.