Biomimicry! What an interesting topic -- as is expected when you attend one of DXY's Tangent events!
Biomimetics or biomimicry is the imitation of the models, systems, and elements of nature for the purpose of solving complex human problems.
Here is the official announcement from DXY about the Tuesday, August 11, 2015, Tangent entitled: The Things We Mimic...
The Topic

When we think about an elevator, we see levers, gears, cables, and pulleys. When they think about an elevator, they see elephants, and spiders, and birds. The Biomimicry fellows at the University of Akron investigate the world and consider all of the ways nature can inspire new, more sustainable solutions to improve the way products work or how social and economical challenges can be more optimally dealt with.

Please join us for the Tangent @DXY to learn more about Biomimicry being researched and implemented right here in Northeast Ohio!

The Speaker

Bor-Kai (Bill) Hsiung is a Sherwin-Williams sponsored corporate Biomimicry Fellow at the Biomimicry Research & Innovation Center; a PhD candidate co-advised by Dr. Todd Blackledge and Dr. Matthew Shawkey in the Integrated Bioscience program at The University of Akron. He is also a trained Biomimicry Specialist (2011) by Biomimicry 3.8. Bor-Kai is coming to Biomimicry with interests of studying the material properties of spider silks. He is achieving his goal by doing spider research, with a little twist. Instead of studying spider silks, his research is now focusing on studying nanostructures and color producing mechanisms in spiders, especially for colors that have structural bases (i.e., structural colors). Bor-Kai envisions Biomimicry to be the hope to sustainable and more eco-friendly technologies. You can reach him at borkaihsiung[at]gmail.com.

Daphne Fecheyr-Lippens biography includes a lot of bio. While getting her MS in Biotechnology she realized that she didn't fit in as well as the rest of her classmates. For a long time she was looking for her passion, which she finally found after learning about Biomimicry. Now she realizes that she fits best within an interdisciplinary team, where she can bring a nature-centered perspective to solving problems. She is getting her PhD at The University of Akon, the reason why she left her comfortable habitat of Ghent (Belgium). For her doctoral research, which is sponsored by Parker Hannifin, she is learning from avian eggshells how to create eco-friendly and innovative materials that protect against harmful UV exposure. Together with the other fellows, she co-authors a blog germinature.com about anything related to Biomimicry. Her love for doing good and changing the status quo is also reflected in her startup, JASWIG, LLC, where together with a team of eight they make standing desks for children. By tackling the global occurrence of "the sitting disease" at its core cause, they want to change a societal norm. You can follow her on Twitter (@DaFecheyr) or please e-mail daphne[at]fecheyr.be as she is always interested in connecting with like-minded people. 

Emily Kennedy is a Biomimicry Fellow in the Integrated Bioscience PhD Program at the University of Akron. Her graduate studies are sponsored by GOJO Industries, the inventor of PURELL® Advanced Instant Hand Sanitizer. Emily spends two days a week embedded in the GOJO R&D department supporting sustainable product and process innovation inspired by nature. For her dissertation, she is generating and testing theory about best practices for biomimetic innovation; with a particular focus on what works in business contexts. Emily believes a procedural template will channel the biomimetic innovation process in a manner that boosts outcome value. 

Emily has a BA in International Relations (Minor: Environmental Studies) from Colgate University and is a certified Innovation Engineering Black Belt. Emily can be contacted at ebkennedy22[at]gmail.com. 
Biomimicry Fellows - University of Akron
Here are our observation of the University of Akron Biomimicry Fellows' talks:
The meeting kicked off with Daphne Fecheyr-Lippens (@DaFecheyr) sharing a video by Sustainable Human (@SustainableMan) -- How Wolves Change Rivers -- which is an incredible story about the impact of wolves being reintroduced into Yellowstone National Park. It really makes you think! If the introduction of wolves in 1995 (also see this interesting Wikipedia entry) can have such a HUGE effect on the environment in just 20 years, imagine what changes could be made by modifying human behavior!
We recommend you watch this!
NOTE: There are "elk" pictured in this video when the narrator is referring to "deer."
This is because the narrator is British and the British word for "elk"
is "red deer" or "deer" for short. The scientific report this is based on
refers to elk so we wanted to be accurate with the truth of the story.
Daphne Fecheyr-Lippens did a great job of relating the video to the principles of biomimetics. By studying nature, we can learn how to make products that benefit humankind that are more efficient.
Next, we examined abalone shells that were passed around the room. Daphne noted that while they are made from the same material as sidewalk chalk, which is brittle and crumbles when struck, the abalone shells are strong enough to potentially deflect a bullet. What makes the abalone shell so impervious to attack?
Centuries of evolution of the abalone has created a material where protein and other organic materials are added to calcium carbonate (CaCO3) to make a very strong shell. The challenge is for researchers to use the principles of biomimetics to unlock the secrets of this material, and find real world uses that benefit humans.
To learn more, see the New York Times (@nytimes) article we found, Material as Tough as Steel? The Abalone Fits the Bill
We also found this YouTube video, Mollusc shells take a beating without shattering, from a New Scientist (@NewScientist) article entitled Battle-hardened oyster may help toughen combat shields, which shows how the nanoscale structure of shells makes the calcite structure strong.
The archerfish's ability to shoot water droplets with deadly force is remarkable. An archerfish can bring down insects and other prey up to three meters (9.84 feet) above the water's surface.
Here is a video we found that demonstrates this unique abilty:
Emily Kennedy shared this information about the ability of the archerfish, and then challenged the attendees at DXY's Tangent to think about a practical use for the process of creating this powerful stream of fluid. Perhaps, by applying the mechanics that have evolved in this fish over generations, a useful product can be developed that uses less electricity to move fluids -- an energy-efficient dispensing method based on nature!
The presentation about biomimicry wrapped up with the attention-grabbing activities of passing around spiders (they were dead and in glass vials), and shining lights on some really cool shoes.
Bor-Kai (Bill) Hsiung's (@bkHsiung) biomimicry fellowship is sponsored by Sherwin-Williams (@SherwinWilliams). He is interested in eco-friendly technology for creating color. He shared with us that the color blue used in much of our clothing is manufactured using a process that can generate a lot of pollution and waste. He asks if there is a better way of producing color -- a way that uses systems of nature.
If you are arachnophobic, you would not have enjoyed this part of the meeting. Bill provided a tarantula and other spiders in vials, and invited us to use our iPhone lights to illuminate them. Under normal lighting, they were just plain, dead spiders, but with the focused light bouncing directly back, bright colors were seen on the spiders.
Here is a video we found that shows the effect. Also, be sure to see the videos that Bill sent Stuart in the blog posts and tweets below.
Bill then brought our attention to his normal black shoes, and asked a person behind me to shine his iPhone light directly at the shoes. "Wow, that's amazing," we heard the person say, but all we saw were the black shoes. Then Stuart shined his iPhone light and we watched the shoes glow with iridescent colors. The effect only works when a person is in direct line with the light bouncing back.
Here is a video that Bill sent us via twitter after the meeting of the Adidas black Xeno shoe. Believe us, that the Introducing XENO video does not demonstrate the full effect. It is much more impressive in person.
To learn more, see some of Bor-Kai (Bill) Hsiung's research papers on ResearchGate website here.
GLBio - Innovation through Biomimicry!
Wow! We know that "wow" might be an overused word, but it does fit when describing what GLBio (@GLBiomimicry) is achieving in Northeast Ohio.
GLBio consists of a collaboration of Northeast Ohio organizations and individuals focused on developing a place-based, living learning ecosystem based on biomimicry. Currently, over 100 individuals from all elements of the NEO community are involved in this collaborative effort ranging from business, educational, medical and public and philanthropic sectors. Collectively these groups are engaged in working to determine what structures and processes are needed to establish Northeast Ohio as the world's preeminent biomimicry lens capital. Additionally, these groups are exploring means to leverage local assets for economic advantage.
We learned from GLBio's director of outreach, Carol Thaler, that they are the only educationally driven economic development biomimicry program in the world. Some similar work is being done in the country of South Africa, and in the Netherlands, but nowhere else in the world is there a program like the one here in our community.
Carol announced the names of some of the foundation supporters of GLBio: The Cleveland Foundation (@CleveFoundation), GAR Foundation (@GARFoundation), and Nord Family Foundation. Stuart associates these foundations as leaders in promoting quality educational programs.

Enlarge Image
(Courtesy of Biomimicry Fellows Presentation)
There are many local Northeast Ohio companies that partner with GLBio. Rather than provide an outdated list -- since we are sure that more will be added in the new academic year -- we invite you to visit the GLBio website for their list of partners and sponsors.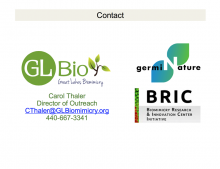 Enlarge Image
(Courtesy of Biomimicry Fellows Presentation)
In addition to learning of the work of GLBio (@GLBiomimicry) on their website, be sure to hear directly from the Biomimicry Fellows from the University of Akron (@Uakron) on their Germinature blog.
Welcome to Germinature! This blog is co-authored by Biomimicry Fellows being trained in a five year Integrated Bioscience PhD Program at the University of Akron (UA). The Biomimicry Fellowship program launched in August 2012. The purpose of this blog is to share our educational experience and draw readers into the fascinating world of biomimicry. We encourage you to comment regularly, raise questions, and ignite discussions!
Bor-Kai (Bill) Hsiung (@bkHsiung) was kind enough to send Stuart a direct message on Twitter recommending these two Germinature blog posts that expand on his presentation:
To learn about a real world biomimetics case study, see Daphne Fecheyr-Lippens' TEDxCLE 2015 Talk (@TEDxCLE):
We also want to thank Chuck Soder (@ChuckSoder), the technology reporter for Crain's Cleveland Business (@CrainsCleveland), for sending Stuart a direct message on Twitter with links to two articles about GLBio (@GLBiomimicry).
The first article, from 2013, gives great insight into the early work of GLBio founder Thomas N. Tyrrell to make biomimicry become part of Northeast Ohio's culture. The second article presents some current Northeast Ohio projects that use processes learned from nature.
Here are the links so you can learn more:
#DXYtangent
We are very grateful to DXY for organizing this and other Tangent events, so that we can learn about the unique resources in our backyard. There is so much happening in Northeast Ohio!
Daniel Nelson (@TheOneDanNelson) emceed the evening, and stated that the purpose of Tangent is to go beyond DXY's creative work to showcase others' innovative endeavors.
We thought it would be interesting for you to view a list of past #DXYtangent event topics. We grabbed these listings mostly from DXY's Facebook events, plus we have added Twitter names and links to encourage you to learn more about these interesting northeast Ohio resources:
We have bolded the names of the Tangents we have attended. After reviewing this list, we wish we had seen them all!
For future Tangents, follow DXY's events on Facebook, MeetUp, and Eventbrite, and watch for Twitter announcements: @DXYdoes
A BIG thank-you to Dan Young (@DanYoungDXY), CEO of DXY, for making these Tangent events happen. They are a great asset to our community.
Tweets and Retweets
Here are some of the tweets and retweets that relate to this DXY Tangent event on biomimicry. Please share with others by retweeting items of interest.
Do you know what #Biomimicry is? I didn't either until I heard Daphne Fecheyr-Lippens talk @ #TEDxCLE - come join os http://t.co/t5GGa03xUk

— Dan (@TheOneDanNelson) July 31, 2015
"The Things We Mimic…" A Free Tangent @dxydoes Event about #Biomimicry in #CLE http://t.co/MeXMV4dVlE

— Daphne Fecheyr (@DaFecheyr) August 4, 2015
Do you like tech and biology? You are not going to want to miss our event tomorrow night http://t.co/t5GGa03xUk #Biomimicry #CLE #ohiocity

— Dan (@TheOneDanNelson) August 10, 2015
No plans tonight? Not too late to register for #free @dxydoes Tangent event about #biomimicry in #CLE https://t.co/yYCIsnjD0N

— Daphne Fecheyr (@DaFecheyr) August 11, 2015
Tonight Tue 8/11 5:30PM @dxydoes' #DXYTangent - The Things We Mimic… https://t.co/XleISvf8E4 https://t.co/rVWwzAS0W3 via @danyoungdxy

— Stuart O. Smith, Jr. (@sos_jr) August 11, 2015
Learning about biomimicry from reps from @uakron at @dxydoes' #DXYTangent.The Things We Mimic https://t.co/rVWwzAS0W3 pic.twitter.com/mW1Iv2QQlH

— Stuart O. Smith, Jr. (@sos_jr) August 11, 2015
Hear how local business & foundations like @CleveFoundation helping NEO be biomimicry leader. @uakron program. At @dxydoes' #DXYTangent

— Stuart O. Smith, Jr. (@sos_jr) August 11, 2015
Learn about @uakron biomimicry program on @GLBiomimicry website: http://t.co/rFISWD1uCs At @dxydoes' #DXYTangent pic.twitter.com/BJCGzAhhoD

— Stuart O. Smith, Jr. (@sos_jr) August 11, 2015
2015 @UAkron #biomimicry Fellows welcomed by existing Fellows and Great Lakes Biomimicry http://t.co/xRoxlnLCN1

— GLBiomimicry (@GLBiomimicry) June 7, 2015
"adidas glow in the dark shoes" See similar shoes using biomimicry at @dxydoes' #DXYTangent https://t.co/rVWwzAS0W3 http://t.co/Xpu32oD20u

— Stuart O. Smith, Jr. (@sos_jr) August 11, 2015
Great talking to Director of Outreach about http://t.co/rFISWD1uCs & @uakron. Follow @GLBiomimicry to learn more. Via @dxydoes' #DXYTangent

— Stuart O. Smith, Jr. (@sos_jr) August 12, 2015
After @dxydoes' #DXYTangent go to @CleveMetroparks' #Edgewater park for #Cleveland #sunset. http://t.co/OR5DgGFMKP pic.twitter.com/x8DxMgiEBz

— Stuart O. Smith, Jr. (@sos_jr) August 12, 2015
.@DaFecheyr thank you for your @dxydoes' #DXYTangent talk about your #biomimicry work with @GLBiomimicry & your doctoral work at @uAkron.

— Stuart O. Smith, Jr. (@sos_jr) August 12, 2015
.@DaFecheyr also, here are the @CleGiveCamp blogs that @TheOneDanNelson told U about http://t.co/V6pxQLsETr Thx for your interest in #CleGC!

— Stuart O. Smith, Jr. (@sos_jr) August 12, 2015
.@TheOneDanNelson thx for arranging @DaFecheyr & other @uAkron doctoral students to talk about @GLBiomimicry at #DXYTangent. It was great!

— Stuart O. Smith, Jr. (@sos_jr) August 12, 2015
@sos_jr - It was my pleasure. I'm glad you enjoyed the Tangent Event at our @dxydoes office @dafecheyr @uakron @glbiomimicry

— Dan (@TheOneDanNelson) August 12, 2015
Loved DXY's tangent event and they loved biomimicry! https://t.co/j7DDY9lr9X

— GLBiomimicry (@GLBiomimicry) August 12, 2015
New Germinature blog post http://t.co/hs0mBm1zLu

— Bill Hsiung (@bkhsiung) July 23, 2015
Very cool! Thx! XENO glow shoes shown at @dxydoes' #DXYTangent. RT @bkhsiung: @sos_jr This is the #Adidas shoes: http://t.co/r8uMLfNSmp

— Stuart O. Smith, Jr. (@sos_jr) August 13, 2015
From spider webs to elevators - leveraging #biomimicry @DaFecheyr @TEDxCLE https://t.co/vvZJlsXF5P

— Jennifer Barnes (@jenniferdbarnes) July 28, 2015
@sos_jr This is the Adidas shoes: https://t.co/f7Yqp4Lg2r

— Bill Hsiung (@bkhsiung) August 13, 2015
From Spider Webs to Elevators: Leveraging #biomimicry | Rene Polin & Daphne Fecheyr TEDxCLE http://t.co/ywgsOMVNYe pic.twitter.com/tlALnMV4wi

— GLBiomimicry (@GLBiomimicry) July 16, 2015
.@ChuckSoder enjoyed @TEDxCLE #biomimicry talk? U should have seen @dxydoes #DXYTangent with @DaFecheyr & @bkhsiung of @Uakron/@GLBiomimicry

— Stuart O. Smith, Jr. (@sos_jr) August 14, 2015
Thanks @sos_jr ! https://t.co/sf0mo5BKeP

— Daphne Fecheyr (@DaFecheyr) August 14, 2015
.@DaFecheyr U R most welcome. Your @TEDxCLE is gr8 #biomimicry case study that complements your #DXYtangent talk http://t.co/HUTsbWo5Vu

— Stuart O. Smith, Jr. (@sos_jr) August 15, 2015
Thx @bkhsiung for suggesting http://t.co/rFISWD1uCs posts that relate to your #DXYtangent talk at @dxydoes about @GLBiomimicry/#biomimicry

— Stuart O. Smith, Jr. (@sos_jr) August 15, 2015
"Future Computational Technologies and #Biomimicry" http://t.co/cjOXlMliQ8 via @bkhsiung @GLBiomimicry #DXYtangent https://t.co/ssuqavVVyL

— Stuart O. Smith, Jr. (@sos_jr) August 15, 2015
popular #science YouTube channel worth subscribing to http://t.co/8oUFi5vQ0Z via @bkhsiung @GLBiomimicry #DXYtangent https://t.co/Ze9x1VEIkz

— Stuart O. Smith, Jr. (@sos_jr) August 15, 2015
NE #Ohio #biomimicry group, @GLBiomimicry, promotes nature as model for innovation http://t.co/7o87FyxqdO via @ChuckSoder @CrainsCleveland

— Stuart O. Smith, Jr. (@sos_jr) August 17, 2015
Bio mimicry one of the topics you might explore for credit in high school. Congrats to #UA-BRIC https://t.co/0WI7yeGhaB

— OH CreditFlexibility (@CreditFlex) August 17, 2015
Can @AvonLakeWater & @ParkerHannifin use @GLBiomimicry #biomimicry to protect water? http://t.co/XQ8NqMHW9n via @ChuckSoder @CrainsCleveland

— Stuart O. Smith, Jr. (@sos_jr) August 17, 2015
@sos_jr We think so. #biomimicry @glbiomimicry http://t.co/jYPQll8JQ2

— Parker Hannifin (@ParkerHannifin) August 17, 2015
Bio mimicry salon with good 'ol friends at DXY. (@ DXY Solutions, LLC in Cleveland, OH) https://t.co/9mQId7vcVI pic.twitter.com/kUuM2qPixx

— Cole Worley (@scwbkk) August 11, 2015
.@scwbkk if U enjoyed @dxydoes' #DXYtangent learn more about @GLBiomimicry from @ChuckSoder: https://t.co/TmeRDecXQy https://t.co/0WGjt4LaFk

— Stuart O. Smith, Jr. (@sos_jr) August 19, 2015
.@scwbkk also see video from @TEDxCLE of @DaFecheyr/@balanceinc talk about #biomimicry/@GLBiomimicry https://t.co/PoMRF6Juz5 #DXYtangent

— Stuart O. Smith, Jr. (@sos_jr) August 19, 2015
From Spider Webs to Elevators: Leveraging Biomimicry | Rene Polin & Daphne Fecheyr | TEDxCLE http://t.co/8CeGzBwlxb

— Chuck Soder (@ChuckSoder) July 27, 2015