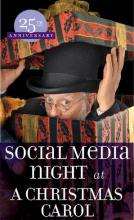 Enlarge Social Media Night
This being Thanksgiving Week, there are tech events and entrepreneur meetings in Cleveland and Akron area only on Tuesday and Wednesday, but there is still a lot happening in our community on those days.
With the start of the Christmas season, this Saturday the Great Lakes Theater (GreatLakesTheater.org - @GLTFCleveland) has a special social media event which is open to Greater Cleveland bloggers. The Social Media Night at A Christmas Carol #ChristmasCarolCLE25 be on Saturday, November 30, 2013, at the Ohio Theatre at @PlayhouseSquare. Space is limited and subject to availability, so Cleveland bloggers should RSVP early online or by calling Chris Fornadel at 216.241.5490 x302. Here is the agenda for the evening:
6:30 - 7:00 p.m.
Go behind the scenes.
Take a rare backstage tour and learn about the magic that goes into making 25 years of holiday memories.

6:45pm - 7:15pm
Enjoy sounds of the season.
Join the Hathaway Brown School @HathawayBrown ​Bravuras for a performance of Christmas carols in the lobby of the Ohio Theatre.

7:30 p.m.
Catch a Classic.
Experience Great Lakes Theater's 25th anniversary production of A Christmas Carol (#ChristmasCarolCLE25).
Please share this blog post with others who are interested in any of the following meetings. If you are on Twitter, please tweet about those meetings that you find interesting to share with others. Thank you.