I'd like to share with you what I learned at the February 23, 2013, Highlight: Summit County - A Code Across America Event. I am glad that Carol Smith (mw-research.com - @carologic) of Persa Zula (PersaZula.com​ - @pzula) let me know about this event, because as I plan to show in this blog post, it represents a way to gather the tech community together to benefit our region.
Code for America is a new non-profit, and a new kind of organization. Our team is made up of web geeks, city experts, and technology industry leaders. We are building a network of civic leaders and organizations who believe there is a better way of doing things and want to make a difference.
I encourage you to go to the Code For America (CodeForAmerica.org - @CodeForAmerica) website to learn more details about what they are doing across our nation to to get government and nonprofit organizations to work together.
I will focus here on what happened at the Code For America: Highlight Summit County event (#cfaSumCo), the larger plan for Summit County, and how you can learn more if you want to get involved.
The February 23, 2013, event took place at Summit Artspace (AkronAreaArts.org/Summit-Artspace - @AkronAreaArts).
...a one-day event celebrating the best of Summit County through a series of brief talks and fun, hands-on workshops using technology, empathy, and experimentation in service of the places and people of we care about. It's all part of national weekend of civic innovation called Code Across America.
We were told that this event was taking place in about 25 cities. The attendees of the event learned that Code For America is like "A Peace Corps For Geeks."
For this one-day event, three Code For America Fellows facilitated the following activities after the initial introduction to the philosophy of Code For America:
Summit County Wiki
Using the LocalWiki project (LocalWiki.org - @LocalWiki), attendees broke up into groups based on areas of interest (hiking trails, wacky & weird, government, business, etc.) and started development of a new Summit County Wiki.

You can see the results from the day, plus work done since this day (yes, you are free to add your own contribution), at: SummitWiki.org
We also learned about citizen feedback for the digital age system at: Textizen.com
Lightning Talks
From the my notes about the Lightning Talks, I want to share with you these links to Summit County resources:

Enlarge for
Akron's Hackerspace Information

Code for America: Highlight Summit County - Blog Post by Gaurav Narain Saxena @gsvolt
Also, United Way of Summit County (UWsummit.com​ - @UnitedWaySummit) was another resource mentioned during the day. See the tweets below which includes links to some more resources including: Ohio & Erie Canalway @OECanalway; Metro Parks - Summit @metro_parks; @ConservancyCVNP for Cuyahoga Valley National Park; The Buckeye Trail @hikethebt; and the National Park Service @NatlParkService.
Brainstorming Session

Click on the following photos to enlarge and read the results of the brainstorming session. Many great ideas were developed at the meeting.
Future & Involvement Opportunities
Over 550 people across our nation applied to be Code For America Fellows for 2013, but only 23 were chosen. From this select group, Dan Avery, Katie Lewis, and Alan Joseph Williams were selected to provide leadership for the Summit County project. Follow on Twitter: @DanAvery; @KlizLewis; @AlanJosephWilli


Enlarge to view
Dan Avery's contact information


Enlarge to view
Katie Lewis's contact information

Enlarge to view
Alan Joseph Williams's contact information
You may contact the Summit County Code For America Fellows for more information, and you can read about their primary work here: CodeForAmerica.org/2013-partners/summit-county/
Create a dynamic and interactive, multi-jurisdictional approach to providing end-user/public information on regional hiking, bicycling, and water trails systems. Ideally, citizens would navigate seamlessly through trail information, provided by various communities or organizations, and perhaps consumers themselves, from one location or platform. Current technology requires users to navigate individually through numerous websites, or maps with limited information, each with a different look and feel and each static in nature. Surrounding communities, counties and park systems will be encouraged to take advantage of the solution developed by CfA, to increase the geographic footprint of the resulting application, thus engaging a larger population of end-users and benefitting the region as a whole. Goal: maximize the opportunity for enhanced community engagement and use of the regional trail system
Of course, you can contribute to the new SummitWiki.org, and read about Code for Summit County ideas: Summitwiki.org/Code_for_Summit_County_ideas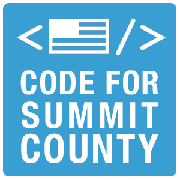 Persa Zula​ (@pzula) has now set up a great resource site: codeforsummitcounty.org. Join us at one of our meet ups or join our online discussion: Meetup.com/Code-for-Summit-County
What others are saying
Learn more about this project by reading what others have written:
In addition to the CodeForAmerica.org website, also take a look at Brigade.CodeforAmerica.org
I recommend you continue to follow the #cfaSumCo hashtag to learn more about the progress on this Summit County project. The following tweets provide links to great resources, photos of the event, and of course, provide you with a great list of participants.